Remembering what my worth is , Creators of Peace Diepkloof, South Africa 
A Creators of Peace and inner healing workshop was held between  22nd and 24th November 2021 in Soweto at the Diepkloof Welfare Centre.  A group of 15 participants took part – coming from the Diepkloof area as well as five caregivers from Barona Care Centre. Participants were between the ages of 22 - 42 years -any unemployed and underprivileged.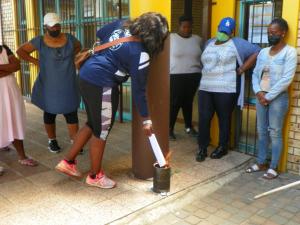 Participants had expectations on healing from grief and past trauma, how to listen to self, learning how to forgive and trust others as well as bettering communication.  Most participants hoped to be able to deal with their anger and their ability to control it. When the workshop started, ground rules were set to create a safe space for participants to open up and have honest conversations. For most, it was their first time talking about their traumatic experiences so honest sharing was difficult - some could not open up at all.  However, when facilitators shared their personal stories, it helped to ease the tension and they were able to open up and start their healing journey.
One participant during the session on Circles [1] of Concern said, "I'm grateful for the space given for me to look into what stresses me about myself and my family.  I am realising that the disunity in my family stresses me.  I feel there is a lot that can be done to unite the family.  Ayanda said, "I'm aware of my lies about my health (on medication for bipolar disorder) and it concerns me.  I know I can do something about it.  However, I feel I won't do anything now because I still feel judgement from my family about my health and my body weight."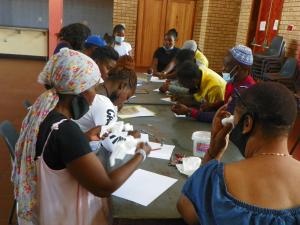 During 'What builds and destroys peace?' gathering point, using the conflict resolution model, most participants kept on expressing the difficulties when it comes to resolving a conflict. Facilitator, Gladys mentioned that when using conflict resolution method, '3I model' which stands for Issue, Impact and Invitation (what is the issue being addressed, what is the impact of the issue and lastly, an invitation to both parties to achieve a way forward).  One needs to express how the conflict makes one feel and also have an idea of what one wants from the outcome of the conflict being resolved. Thobeka mentioned that she hated her family so much that she wanted to run away for good but now she realise that she can forgive them and continue being a loving and caring person to them as well.
On day three many mentioned that they found the 'Inner listening' gathering point very helpful.  They shared that they have learned to listen to themselves and that they are going to practice inner listening more in their inner healing journey for the answers they need about in their lives.   One participant said that she is now aware that she has the power to deal with her life issues if she can continue practising inner listening. During the 'Power of forgiveness' gathering point, most participants wanted to experience 'forgiving and forgetting', and Cleo explained that with forgiveness, there is no way one can forget but they can learn from the experience.  It can never be forgive and forget but forgive and learn.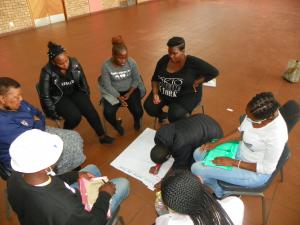 Gladys: I feel this group had a lot to share but they were not allowing themselves the process of the workshop. However, I'm grateful that we managed to reach all expectations that they had and there are stories of change in some of their lives. The follow-up session and Family Trustbuilding dialogue will take place on the 9th of December 2021 where we will look at the progress on peace in practice and having a dialogue with one family member they will be bringing to walk with them on their healing journey.
Report by Cleo Mohlaodi and Gladys Mabe