Anger diminishes values in one's life – Creators of Peace South Africa
In the chilly winter air, from 18-20 May 14 participants (men and women) between the ages of 14-43 years and from 25th - 27th of May, a nine participants were part of two three-day Creators of Peace circles/ Inner healing workshops once again at the Olievenhoutbosch Development Association centre.
Olivienhoutbosch, south-west of Pretoria, is a community that has many orphans, single parents and fatherless children – people who have come from other provinces and countries to seek work and to further their studies. Gender based violence, depression and anger are prevalent. Yet the commitment of these groups were commendable as each morning they came with an open heart and an inquisitive mind, saying, 'I am looking forward to learning more today'.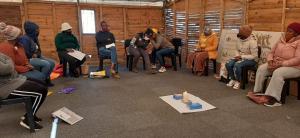 Their expectations were to understand forgiveness, knowing and equipping self with inner healing tools and communication tools, conflict resolution, self-awareness (know my worth), stress/anger management (anger diminishes values in one's life) decision making and inner healing. "I learnt that whenever I have a problem I don't have to run away from it. Instead I should find a solution and my inner peace" – expressed Samuel, one of the participants. "Since I was born I never believed in myself, I never had self-confidence but now I have and I can stand in front of everyone and express my feelings," Matome shared confidently.
The objective of the Peace Circles (PCs) is to create a space where individuals develop a sense of hope and of value, begin a journey to inner healing and see the importance of learning forgiveness more especially in parent/child relationships.
Stumbling blocks like a language barrier and resistance to story sharing were the main challenges for participants. As with other groups, psychosocial challenges stem from broken family structures due to divorced parents, absent fathers, emotional abuse, financial challenges to further studies, rejection, seeking sense of belonging and family support on personal goals. Some clinical cases needing medical referral. The social worker will follow-up on issues of anger and forgiveness with four of the participants.
During the participant's evaluation, 100% recommended their family members especially fathers and siblings to include next into a Peace Circle and later the Family Trustbuilding dialogues.  They feel the need for deeper listening to the other and to be listened to as well as being thankful and empowered by the Peace Circle.  They came away with renewed and restored hope to fight for their dreams. Refilwe expressed, "I was a very unforgiving person. I had anxiety and I looked at my parents with hate. I used to blame myself for everything including other people's failures and I found excuses for everybody that hurt me. I am now willing to forgive others as well as myself. I enjoy my space and I am no longer afraid of silence. I am willing to sit down and talk to people who hurt me. I am growing a love towards my parents. I am ready to move on, I want to stop striving for perfection. I am ready to follow my dreams - the sky is the limit."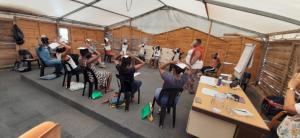 Participants have set-up goals for themselves, both personal and with family, to practically live the change they want, for example: Improve communication; Promote forgiveness; Do further research about anger. 'I learned to forgive and to take one step at a time,' shared Kamogelo.
Capetonian, Nompendulo Mathe, a facilitator in practical training expressed that she feels inspired by the teamwork and the outcome of the workshop. She will be assisting with two CoP circles during these last two weeks of June in Gugulethu, Cape Town.
Gladys Mabe, a co-facilitator, felt motivated when they opened up to conversations especially inner feelings and being able to listen to their inner voice. She shared her personal reflections of how she and her brother fixed their strained relationship recently. She further shared that the circle helped her develop her facilitation patience so that she can move at the participants pace and not hers.
Unfortunately follow-up sessions that were planned with these participants have had to be postponed due to an high increase of Covid 19 cases in the Gauteng province. These will be resumed as soon as possible. Particpants still continue with their one on one with the social worker via calls and whats app.
We would like to thank the IofC South Africa, SZF, Olievenhoutbosch Development Association, Ukulunga Foundation, individual donors, volunteers. Please feel free to donate is you can by contacting Cleo.
Report by Cleo Mohlaodi, Nompendulo Mathe and Gladys Mantwa Mabe