Blazing a trial, Olievenhoutbosch Creators of Peace Report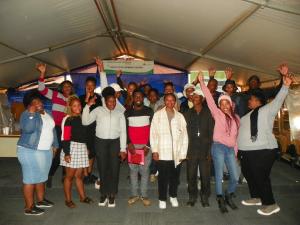 As Initiative of Change through its two programmes, Creators of Peace and Family Trustbuilding Programme is blazing a trail alongside the Ukulunga foundation. This new space of collaboration is now looking at the holistic development of participants with inner healing, family care as well as sustainability.
Ukulunga foundation, is a registered NPO that thrives on development and changing lives around Pretoria. August 15th to 17th 2022, we started with the first of four CoP circles under the renewed partnership.  This project will run until November 30th, 2022. 
The mix gender group of 16 people between 18 and 65 years of age. Many of the young people are unemployed, they are originally from the provinces of Limpopo and KwaZulu Natal and came to Johannesburg looking for work opportunities and going through skills programmes at Olievenhoutbosch Development Association. Mr Ngobeni, who was the senior participant, is assisting community learners with school homework, arts and poetry.
This group had challenge with vulnerability, after some group warmth, they expressed that expectations were:  learning how to be patient with oneself and other people; dealing with anger and how to manage it; boosting confidence; how to forgive people who constantly hurt them and self-awareness.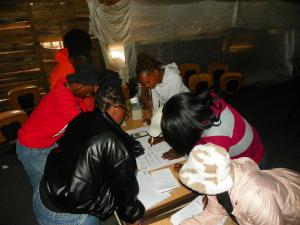 During the session entitled 'Qualities of a Peace Creator', facilitator, Gladys Mabe, asked participants who is their role model and why? , with the awareness that we all have qualities or values that drive or motivate our behaviours. One participant mentioned that he doesn't have a role model as he thinks having role models means one must live a life like them.  Out of that dialogue, it was clarified that having a role model means having a person or people one looks up to, admiring certain qualities they have or portray.  After some activities within the session, participants realised that how they interact with people and the kind of behaviour they portray makes up their character.
On day two, and three there was more participation within the circle. One participant mentioned that she was grateful to learn about 'Inner Listening' and plans to continue to practice of reflection more. Londiwe said, "I was not sure if I should attend this programme because I believed that I was okay.  However I have found out that I am not. I was finding ways to escape from my reality. I was in denial of my pain.  This programme made me realise that it is okay not to be okay and talking about issues that bothers us, helps. I'm in a better place now and I'm ready to walk 'my' inner healing journey because I can proudly say I have forgiven people who have hurt me in the past."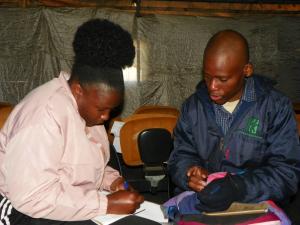 Visible on the third day was positive change in some of participants in how they interact with others, such as speaking louder, more confident at leading activities and overall self-grooming. Patrick said that he managed to take his family members through activities he learned during the Peace Circle, especially the conflict resolution model we used.  He told of conflicts in the family and how the norm was not to listen to each other.  However, during the family session and skills he implemented, they had listened to him and cooperated. Fatty said, "I'm grateful for this programme.  It has made me realise that I need to be myself in everything I do and stop pretending."
Gladys said, "I liked how Mr Ngobeni didn't feel inferior or superior throughout the Peace Circle.  It was heart-warming to see him allowing himself to be vulnerable and even break down during the inner healing session."
A follow up session will be held on the 16th September, the goals that they were to work on are  their anger, forgives and self-knowledge, so we will be checking the development.
We thank all sponsors and donors who enabled this successful programme.