Building sisterhood, Creators of Peace Ennerdale,Johannesburg
"You are not alone, and I am not alone.  We are in a sisterhood together and together we can make it." -  Sarah Mae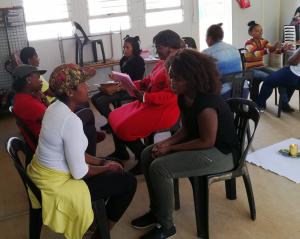 Creators of Peace was invited to build peace and sisterhood with nine ladies at Osizweni (helping place) school in Ennerdale, South of Johannesburg between the 9th-11th May 2018.
Ennerdale is a racially and cultural mixed community.  It faces daily challenges of drugs, teenage pregnancies, crime, unemployment and disunity.  However Osizweni - Cradle to Career, is an NGO offering services of a primary school, feeding scheme and food gardening to the community to address social needs and skills development with the hope to build a better future for all – whether privileged or not. 
This group knew what peace is all about but did not know how to apply it in their lives. The three day Peace Circle enabled them to explore and get the feel of what it is like to have  peace within oneself.  One lady, Lettie said, "I am so peaceful here. I wish this was my and my children's home." Living with jealousy, unforgiveness and anger made them forget their values as an individual and their uniqueness. Whilst exploring the theme, "Qualities of a Peacemaker," the group decided they want to be known in their community and family for their integrity, sympathy, compassion, happiness and motivation and no longer as people without purpose and zeal for life.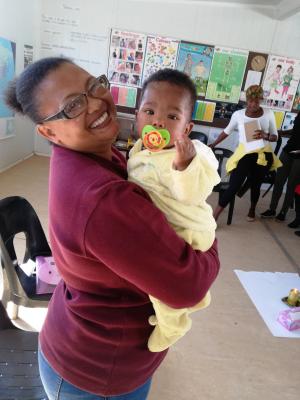 One of the co-facilitators, Lucel Snyers expressed that she felt the group needed motivation that would uplift them in order for them to reach their goals and that is what she felt the three-days workshop did.  It broadened their visions and helped them see that it is possible to reach their goals starting with small steps of forging self and enjoying their life journey as it unfolds and not as they think others would want them to be. As Elizabeth, one of the participants shared, "I want to work on my pride, forgive myself and others and be free."
Outcomes of the group were to spend more time on reflection as they started loving the space for silence, improve parenting skills and love for their children, complete their grade twelve of high school and gain self control and self confidence.  
Thank you Initiatives of Change South Africa, Aulicious Food and Decor and City of Johannesburg.
Reported by
Lucel Snyers and Cleopadia Mohlaodi