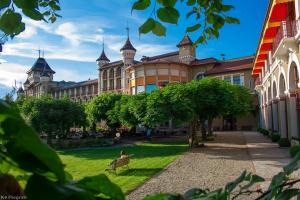 The Caux Artists Program is an interdisciplinary course focusing on VOCAL ARTS (opera, music theatre and jazz), taking place in Caux, Switzerland, 26 June  – 10 July. We are now accepting applications for 12 - 16 young performing artists from around the world. Scholarship funds are available so apply early - first come, first served! Application deadline is 31 March.
CAP invites you to LIKE our Facebook page at CAUX ARTISTS PROGRAM and contact us with any questions you may have.
The Caux Artists Program (CAP) takes place at the Initiatives of Change (IofC) international conference centre in Caux, Switzerland. It is an amazing two weeks with artists from all over the world. In keeping with the international and multi-cultural 'spirit of Caux', CAP has had artists, faculty and mentors from Cameroon, Colombia, Egypt, Germany, India, Nigeria, South Africa, Switzerland, Ukraine, United Kingdom and the United States.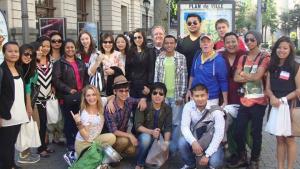 'The project you describe (CAP) has my full and enthusiastic support. Without music and art the deeper, wider change we seek will never arrive.' - Rajmohan Gandhi, Past President of Initiatives of Change International
'Time shared with people coming from many places helped me look at life differently, which enhanced my "creative ability". Caux is like a hermitage which provides a unique environment for artistic activity and a fear free atmosphere to express it.' - V Soumyasri, Caux Artist- India
Bev Appleton