Change in Progress - Oakdale Secondary School intervention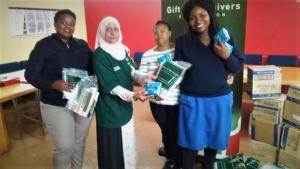 On Monday, 11th March 2019, Initiatives of Change (IofC) and Gift of the Givers Foundation joined hands to give love and support to Oakdale Secondary school by answering the need for a hundred learners without stationery by donating sanitary-ware and stationery hampers. This campaig was initiated as we aimed to work with teh school to offer relief to the growing Coutry crisis in schools. 
Gift of the Givers is the largest disaster response NGO of African origin on the African continent. Having been established on the instruction of a Sufi Sheik, Muhammed Saffer Effendi al Jerrahi (a spiritual teacher) in Istanbul, Turkey, on a Thursday evening, 6 August 1992, Gift of the Givers has delivered life saving aid in the form of Search and Rescue teams, medical personnel, medical equipment, medical supplies, medicines, vaccines, anti-malarial medication, high energy and protein supplements, food and water to millions of people in 43 countries, South Africa included. Commencing as a disaster response agency the organisation now has 21 categories of projects which include bursaries, agricultural self sustainability, water provision, counselling and life skills services, entrepreneurship and job creation, establishment of primary health care clinics and medical support to hospitals, winter warmth and supply of new clothing and shoes, sports development, feeding schemes and food parcel distribution, supply of household and personal hygiene packs, educational support and toy distribution, provision of housing, care of the physically and mentally challenged, orphans and the elderly as some of our diverse activities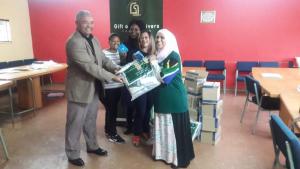 The high school, Oakdale Secondary School is situated in Ennerdale Ext 5, south of Johannesburg. The daily challenges are conflict between teachers and learners, gangsterism, teenage pregnancies and lack of proper school infrastructure. Having heard what the challenges are, one of the programmes of IofC, namely, Change in Progress started to have conversations with the school principal Mr. Marcus Heraldine. We received approval from Mr. Heraldine to work with grade10 learners for a span of three months to address character building.The proposed programme, #RobinHoodMovement, will operate for three months and then be evaluated.    The  skills that will be developed will be Organising, Communication, Planning, Leadership, Basic Counselling, Time Management, Problem Solving, Business Etiquette, Anger Management and Emotional Intelligence. The skills obtained will be practically applied, putting fresh and new energy into the lives of the young people.
This initiatives halted as the school went through a temporaray shut down for structural maintainance and some of the social ills. The learners are placed in neighbouring High schools until all is resolved. then we will continue thereafter 
A thank you to the Gift of Givers Foundation for joining with IofC for a heart-warming contribution to the learners. We, however, request support and mentors for the learners who will continue to work with us. Education is the door for hope and transformation of our societies. 
Reported by Cleo Mohlaodi and Lucel Snyers