Civil Society Organisations
Roundtable: The roles of Civil Society in eradicating voters' apathy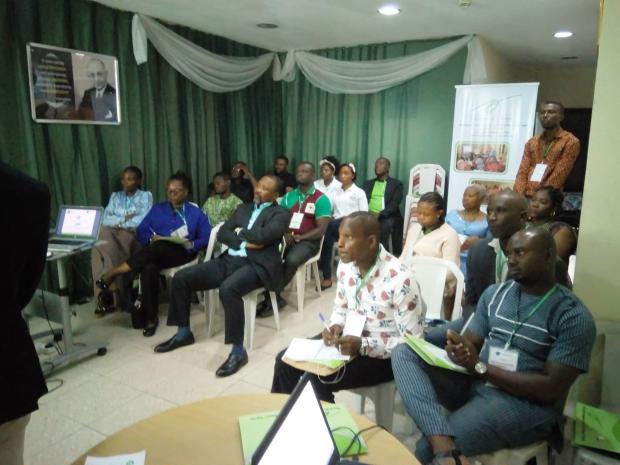 Initiatives of Change (IofC), Nigeria, also known as Moral Re-Armament, in a bid to ensure strategic solutions towards making the Nigerian democracy real, invited active Non Governmental Organisations (NGOs) working on Governance and Democracy, to it's 2018 Civil Society Organisations (CSOs) Roundtable Dialogue. The event took place at the Initiatives of Change secretariat in Ikoyi, Lagos on 14th April 2018.  Fourteen registered NGOs attended.
Making Democracy Real (MDR) initiative covered various programs such as:
MDR Dialogues:  affording the Youth (identified, selected), Clergy (Pastors, Imams and other religious leaders) and Political Stakeholders (flag bearers, party representatives) and Independent National Electoral Commission (INEC) representatives the safe space for conversation on how to collectively achieve free, fair and credible elections.
Sensitization campaign and town hall meetings: These campaigns aim at engaging and involving players in the market places, religious houses, academic institutions and motor parks etc., to bring awareness and participation in election and democratic processes in partnership with the INEC, Lagos State.
Conference and CSO's Round Table Discussion: To collaborate with other non-governmental organizations and thinkers on best practices to make the aforementioned activities a success.
Elections in Nigeria have over the years been characterized by violence of all kinds, ranging from killing, ballot snatching, hate speeches, destruction of lives and properties. As if those weren't enough, voters' apathy is on the all-time high. The organization (MRA/Initiatives of Change, JDPC, CJMR, Community Life Project, Joint Frontline Action) believes strongly in the power of strategic collaboration and partnership, hence this arm of the initiative.
Participants were taken through a slide presentation presided over by Julius Opara on the 'Introduction of IofC and what we do in Nigeria and globally."  The session was followed by a slide presentation delivered by Mustapha Olatunji on the "Making Democracy Real Initiative' where participants were taken through the vision and mission of the initiative under which umbrella they have gathered.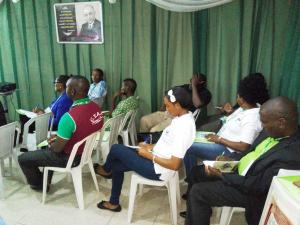 Barr. Abiodun Owoseni facilitated a session with the topic "Many NGOs, Less Impact."  He stressed the importance of the good work NGOs currently engage in and encouraged more. The session, which was an interactive one, drew comment from participants when he asked them the reasons why NGOs are failing despite their huge numbers. The comments were:
Limited financial and management expertise;
Limited institutional capacity;
Low levels of self-sustainability;
Isolation/lack of inter-organizational communication and/or coordination;
 Small scale interventions;
Lack of understanding of the broader social or economic context;
Possible lack of legitimacy;
Lack of transparency and accountability
Barr. Owoseni ended his session by seeking for cordial and mutually benefited collaboration between NGOs.
The open dialogue elicited robust contributions from various NGOs present. The following were comments made by some of them:
The Nigerian populace are being disenfranchised by the political class because they want to continue manipulating the system. They have refused to empower the people so that they can continue manipulating and using them at will. They have systematically impoverished the people to make vote buying attractive to the poor masses. Even the Independent National Electoral Commission (INEC) has made registration and collection of Permanent Voters Card (PVC) cumbersome, hence less interest from the people. I am however happy that an organization such as IofC  is taking steps to ensure that things are done right and the dividend of democracy is felt by the people. We must strategically collaborate in order to educate, inform, empower and sensitize the populace on their right and the power of their votes…. Joint Action Front (JAF)
Whether we like it or not, Nigeria is our collective project. Yes, we have all agreed that the system hasn't created any enabling environment for democracy and good governance. However, we cannot be seen to be giving up. We cannot afford to allow the project called Nigeria to fail. Every one of us must intensify effort to educate our constituents and encourage them to go get their Permanent Voters Card (PVC), participate in the electoral processes, come out to vote peacefully on election days and protect their votes. We must by all means promote the eradication of voters' apathy. We owe it to ourselves, our nation, God and the people of Nigeria to ensure that we make the system better than it is now.  Justice, Peace and Development Commission (JDPC).
The moderator of the dialogue closed the discussion by saying "we must now strategically design the language of communication for various audiences. We must communicate and pass the message to the people in the language they understand. They must be aware that if they sell their votes, they will suffer for it for the next four years. We must strategically devise means of reaching the people through various platforms. The process to strengthen our electoral processes and enshrine good governance is a long journey but we must start it now."
Various organizations in attendance pledged to invite, partner and collaborate with IofC on relating projects. We are optimistic this newly built relationship will ensure we deliver on the mandate of IofC and bring about tremendous transformation in Nigeria.
Compiled by:
Mustapha Olatunji