Creators of Peace Circle - My Pain doesn't define me - Gugulethu, Cape Town
 'One day that pain will be a mere memory – never a definition – Marisa Donelly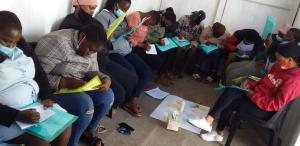 A group of 21 women between the ages of 19-51 years participated in two concurrent Creators of Peace Circle / Inner healing workshops. The need was to have honest conversations to unpack their past challenges and find healing. The two workshops took place from the 15th to the 23rd of September 2021, at Gugulethu, Cape Town.
The commitment of the groups was heart-warming as each morning, despite the cold windy weather, they came with the willingness to share and learn from each othe. Expectations of finding inner peace, learning more/finding means of dealing with anger, be equipped on how to be true to one's feelings and emotions also how to deal with family conflicts, were attained.
One Participant expessed that,'I am really grateful to be a participant in the CoPC, I'm now able to understand more on what builds or destroys my inner peace and I can now have a decent conversation with myself prioritising my Inner peace', another said, 'Workshops like these are needed in our broken communities', and another shared that, 'I learnt that when I have a problem I have to face it and find a conducive way of addressing it so that I can find a solution for my inner peace, instead of pretending that everything is okay'.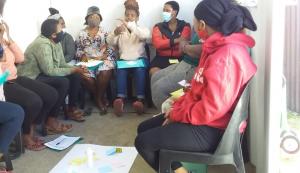 Some of the psychosocial challenges mentioned duing the Circle come from single parent headed homes, broken family systems, lack of communication and Gender Based Violence, this sadly means many are not in good talking terms with their families. Teenage pregnancy, unemployment and lack of family support were the most spoken of as majority of the participants come originally from the Eastern Cape. Ninety percent recently matriculated, most are unemployed.  They settled in Gugulethu, a densely populated township in Cape Town, approx. 600 kms from their original homes, looking for work and opportunities to further their studies. Lack of family support, communication and unity were the most shared feelings.  Many come from broken families, still grieving lost family members, have had teenage pregnancies and had to raise their children as single parents. Some have had to raise their siblings from an early age with huge financial challenges.
Facilitator Nomonde, writes, "I felt motivated by the few participants that committed to the programme from day one to day three and seeing them opening up to conversations especially during inner peace/river of life activity. This was heart-warming. In the participant's evaluation, 70% indicated family recommendation especially parents and siblings while 30% indicated community and friends. At the end workshop participants thanked the facilitators and CoPC for affording them this opportunity to be part of the programme and allowing them safe space to share without being judged. 
"Participants were thankful and felt motivated. Hope was restored to fight for their dreams Some felt the desire to go back to school. "Thank you friend for bringing me to this space to bring back all the painful memories I have tried to suppress for so long," Zuzeka shared.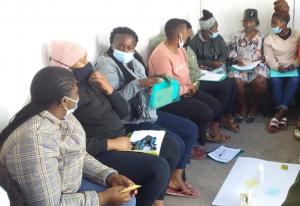 In three weeks' time 20 participants will attend a follow-up session on building a support buddy network. They have set-up goals for personal and family communication and working on their anger issues. "Thank you for bringing this inner healing workshop to bring back hope in our lives,"  said Miranda.   
 We as the programme acknowledge Syliva Zuber Fund, IofC South Africa, individual donors and support and prayers from team and friends that this work can continue. 
Report by; Nompendulo Mathe and Nomonde Qondiso