Creators of Peace Circles follow up in Nakuru County-Kivumbini, Bondeni and Kabazi
On the 25 September, 2015, a group of 29 women selected from three groups in Nakuru County (Bondeni, Kivumbini and Kabazi) that took part in the Creators of Peace (CoP) follow up meeting.

Kivumbini and Bondeni are two slum areas of Nakuru County inhabited by a diversity of tribes including the Kenyan Somalis, Kikuyus, Luos and Luhyas among many other communities. This being an area in the city, life can never be that easy as everyone is busy trying to make ends meet. Hence, little time to reflect. Kabazi is a farming area located between Nakuru and Nyahururu town.
The women shared from the hearts what their experiences have been since the CoP training. It was motivating for the CoP team.  'I used to live like a self-prisoner.

Many times I did things that I regretted later and the guilt lived with me forever. I never knew that forgiveness starts with me. The moment I forgave myself for the things I couldn't correct in my past, my healing began. And now, I no longer look like a sick person like I used to be due to the guilt that was eating me from inside. I learnt to let go of the past and I acknowledge the mistakes and I now make efforts to do what is right. Thanks to CoP training, I am so free!' were the comments from Jane.
Teresa, from Kabazi had a hilarious story to share too.  "A few days after the training, I experienced a real test. My chickens were getting lost and my assumption was that some wild animal was responsible. All of a sudden while fetching water from the stream, I met with my neighbour's seven year old son who revealed the truth to me.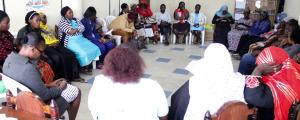 He told me that his mother usually sends him to come and steal my chickens so that they can prepare the stew for their family." The young boy innocently shared how they had been feasting on her chickens, and one was waiting to be eaten that evening. She continued, "He was willing to go and show me the hidden chicken that was to make stew that evening. I asked a neighbour to accompany me to bear witness. When we arrived, we found the boy's mother and we asked the boy to repeat what he had told us, and he innocently did. The mother tried to deny it but the boy went ahead and released the hidden chicken in our presence. The mom lacked words. I now had all the evidence to take her to the police but going back to the CoP teachings, I let them have that chicken and made her promise that she will never ever steal chickens not only from me but from any other person again. She did, and I can now assure you that we are a happy community. No more chickens disappearing without a trace."
It was a successful meeting that saw the women recommit themselves to keeping the peace practice momentum by visiting and engaging people in churches, hospital, prisons, preaching in groups as well as living as examples so that more and more people can learn from their way of life.
Report : EstherMarrie Inzekellah,  Rose Njeri Kamau
 Photography: Sam Mwaura