Creators of Peace Circles re-born in Tanzania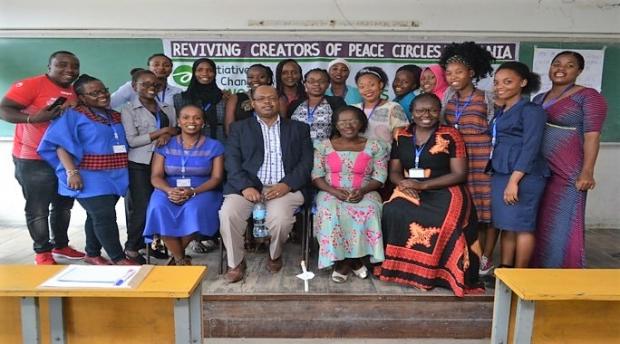 Creators of Peace (CoP) was launched in 1991 at the Initiatives of Change (IofC) Conference centre in Caux, Switzerland by Hon. Anna Abdallah Msekwa of Tanzania who is a respected retired politician as well as a leader of women leaders organizations to date.
Despite the fame and transformative work of CoP worldwide, and the idea having been conceived in Tanzania by a Tanzanian, this initiative has not been active in Tanzania. The first Peace Circle took place at DUCE – Dar es Salaam University College of Education in Dar es Salaam city.  It commenced on 31st August and ended on 2nd September 2018. The group consisted of 17 participants within the age bracket of 24 to 35 - some of them being recent university graduates and others already working.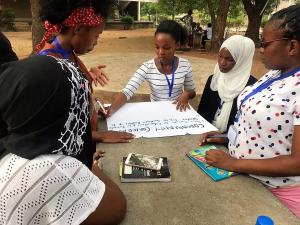 On the first day of the workshop, the participants were thrilled and humbled to have Hon. Anna Abdallah Msekwa as a guest. In what she called a small speech that she had prepared, yet so full of inspiration and hope she shared what peace meant to her, and how important it is in our every day to day life.  Hon. Anna expressed her joy that she now saw light at the end of the tunnel because she had much faith that this would mark the beginning of an active CoP team which has been her wish for a long time. "The initiative of Creator's of Peace is no longer an initiative for women only but for all mankind to create everlasting peace," she said.                                 
(Participants and facilitators with Hon. Anna Abdallah Msekwa)
 "Amani ni hali ya kuwa na uhuru,utulivu na upendo kwa mtu binafsi, familia, nchi na Dunia"  which means, "Peace is a state of having freedom, calmness and love on a  personal, family, national as well as a worldwide level." This was a powerful definition of what peace meant to them in the, 'What Is Peace Anyway' gathering point.
The matters of concerns were discussed by the participants in three groups categorizing them in national, community and family concerns. Participants had a moment to reflect on their contributions to some of the concerns and possible solutions and positive contributions they can contribute to some of the concerns. One concern that stood out was that of environmental pollution by careless disposal of garbage by citizens in the streets which was alarming. Chezyeto said that when one person dumps garbage in the wrong place then it's so obvious that others will follow and it eventually has become a menace. Her commitment was not to dump litter at the wrong places and all other participants were in agreement.
(Participants sharing on the national concerns from group discussions)
"During the story sharing session, one is privileged to learn from others, and the best that one gets is peace of mind and heart," said Twilumba. Different members shared their stories freely in a safe space, under the promise of a high level of confidentiality from the listeners. "Story sharing is healing in one's soul.  The person sharing has no idea what impact it has had on me.  It makes one feel free," Nancy commented.
"Peace begins with me, I will not be a destroyer of others people's peace.  Now that I have learnt the importance of reflections, I will always examine my own life, thoughts and actions before executing them to see that I am not a destroyer of peace. I will practice more of reflections." These were the words of Judith M.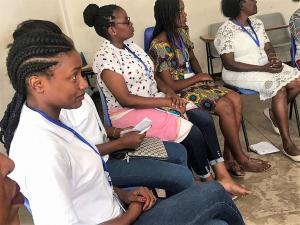 'The Power of Forgiveness' is one gathering point that touches many people's lives and it was not different in Tanzania. Elizabeth said that "I have learnt that forgiveness starts with one's own acceptance of wrongs done, and it should always begin with me." This session was made more powerful after watching the South African documentary "BEYOND FORGIVING" which shows forgiveness as a way of living creatively with problems of irreversibility. Participants shared the many lessons they had learnt from Ginn Fourie and Letlapa Mphahlele in bringing healing and reconciliation.
"It is better to light one candle than to curse the darkness," said Gloria.
Gloria Masangia and Dosca Vuhahula, the IofC Tanzania Coordinators, worked tirelessly to see to it that Peace Circles happen in their country.  This being the first they encouraged the other ladies that they keep the candle burning and create a bigger family of Creators of Peace Tanzania.
The support by the IofC Tanzania was well represented and the official closing of the peace workshop was humbled to have Mr. Joseph Badi, Secretary of IofC Tanzania close it. He thanked the two facilitators from Kenya, namely Mediatrix Masava and Mumbi Wambugu for making an effort to travel all the way to facilitate the Peace Circle. Later on he awarded certificates of participation to all participants urging them to be creators of peace. Lastly the lighting of one candle was done symbolically by the facilitators and passed on to each member of CoP and IofC, symbolising a new start of CoP in Tanzania where all committed to play their part.
Learning is a continuous process and usually known to be endless. The workshop was one of the greatest of its kind.  Every participant could express in their own words  the knowledge they had received as well as every activity they participated in.
CoP Tanzania thanks all the funders of this Peace Circle, CoP International president Amina Dikedi Ajakaiye and international members, all guests, participants, facilitators, logistics assistants, D.U.C.E University and everyone else who made this workshop possible. We look forward to working with you again in future. THANK YOU!
Facilitators:  Mediatrix Masava and Mumbi Wambugu
Report by: Judith Mtambo
To support CoP Tanzania kindly contact Gloria Masangia on Tel no: +255 712 449 477 or email add: gloriamasangia@yahoo.com