Creators of Peace teaser at Orange Farm A new area of growth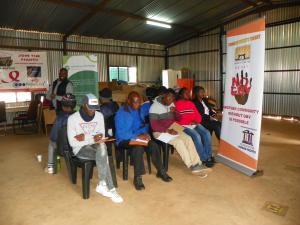 On a very cold winter's day on the 30th June, Creators of Peace (CoP) delivered a Peace Circle (PC) 'teaser' to the six stakeholders of Orange Farm community with the aim to build new community intervention through Orange Farm Human Rights centre and for better understanding of our programmes.  Due to some unexpected demands on the time of the stakeholders we were not able to have a full three-day PC.  These stakeholders will continue as partners with us in future and they wanted to experience a PC themselves first.
The 10 people who took part are working with the Clinic, Home Based Care and Orphanage centre and the Women's Forum, as Human Rights activists and community activists - all trying to address directly or indirectly issues of mental health, gender based violence (GBV) and community development.  It was a mixed gender group ranged between 23-68 years of age.  These community workers are emotionally broken and need to heal from trauma.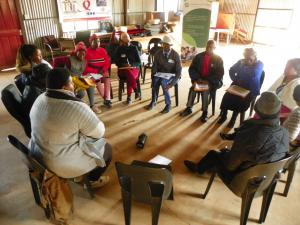 The group had expectations of learning how to forgive, anger management, learning more about peace and how to be resilient. All expectations were met and they have started the process of resilience.
During group discussions, there was a realisation that participants are going through unhealed grief and trauma and they indicated the willingness and wish to find healing - healing from fear and insecurities, broken relationships between parent and child, forgiveness (something they want to do but do not know) and the realisation of the importance of expressing self, self-forgiveness, forgiving others and improving communication.
During the Inner Listening session, one participant said, "I want to start loving myself and stop doing things to please others – this is a first step for my self-love."  Maletsatsi said, "I have wanted to ask for forgiveness from my sister but I did not know where to start.  Now I have an idea. I thank this programme for helping me.  I will also be glad if this programme can be delivered to my colleagues as well because I realise that we all need inner healing at my workplace."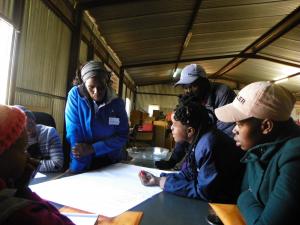 There was a language barrier challenge.  However, we tried to make everyone comfortable expressing themselves in their own language.
A follow-up session will be conducted on July 8th where we will get feedback from the managers of organisations and continue the journey of inner healing with participants.
Three people requested referrals on various difficulties and traumas.
We will have three months promotional work and relationship building with the stakeholders – all working towards building a foundation to reach the following goals:
Improved communication
Instilled values (UBUNTU)
Relationship building
Healthy families
Individual growth
Confidence boost
Lower GBV effects
Lower crime and suicide
Lower teenage pregnancy and drug abuse
Healing of historical trauma
Our key target is healing for adults and youth, team building between the stakeholders, mental health awareness within the youth and parent/child dialogue.
reported by Cleo and Gladys