Caux's history made it the ideal place for a high-level symposium on reconciliation. Mary Lean reports.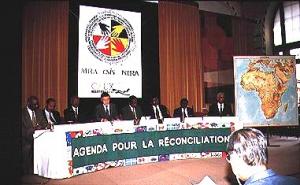 A Frenchwoman describes the liberation from bitterness towards Germany that her mother found at Caux, 50 years ago; a German recalls what it meant to meet people who had suffered `under us Germans' and were prepared to forgive.
A former Tunisian diplomat, who first came to Caux 43 years ago at the age of 27, speaks of the `alchemy on this inspired mountain'. `This is the place I dropped a big bundle of anger and hatred,' a Cambodian woman, who lost her husband in the killing fields, says simply.
All four of these people, speaking at the symposium on `An agenda for reconciliation towards the 21st century', were recalling moments of truth which had led them on to play a part in the reconstruction, liberation or reconciliation of their countries. It was experiences like theirs which inspired Japan's National Institute for Research Advancement (NIRA) and the Center for Strategic and International Studies (CSIS) in Washington DC to join MRA in hosting the symposium in August. The symposium approached its theme from an academic as well as a practical angle and drew politicians, diplomats, peace workers and academics from all over the world.
It took as its starting point the post-War reconciliation of France and Germany, which was facilitated by heart-to-heart encounters between the former enemies, many of them at Caux. `The spirit of Caux has found full and lasting expression in efforts to build a new, united Europe, free from the mutual suspicion and enmity of the past,' stated a message from the Secretary-General of the United Nations, Boutros Boutros-Ghali. The message was read to the symposium by José Ayala-Lasso, United Nations High Commissioner for Human Rights.
When Frank Buchman asked the French in 1946, `How can you rebuild Europe without the Germans?', he had provided the `perspective of the future' as a reason to forgive, said Ambassador Jean-Marc Boulgaris, who represented the Swiss Foreign Minister at the opening. `The future turned the present upside down and freed it from the grip of the past.' Caux's role, was to be such `a place of the future'. Justice, he stressed, was a essential component of reconciliation.
Next day experts from France, Germany and Switzerland made presentations on the theme of `France and Germany - the paradigm experience'. `Fifty years of peace between France and Germany is very unusual in the history of our world,' Henri Ménudier, Professor of German Civilization at the New Sorbonne, reminded the packed auditorium.
The symposium was attended by Tsutomu Hata, who was Prime Minister of Japan in 1994, and two other Japanese Diet Members. Hata spoke of Caux's role in preparing the way `for Japan to be reconciled with the world family after World War II'. He described the part people inspired by MRA had played in post-war Japan's recovery - including their influence on labour relations, the move from confrontational to kyosei (working together) politics, and Prime Minister Kishi's apologies for atrocities in World War II.
`Since then, Japan seems to have forgotten her own history and behaved as if her only concern was her own peace and prosperity,' Hata continued. `We must face our past history and put right what is wrong.' He apologized `deeply for the indescribable sufferings and wounds Japan caused during the war' and proposed measures to repair the past.
Hata called for an international conference on conflict resolution to be held in Hiroshima in 2000. `Not only do we need to deal with corruption, injustice and hate, but we also need to raise living standards, improve human rights and encourage democracy, if we want to solve conflicts,' he said.
For Yukio Hatoyama, Secretary General of the New Party Sakigake, Japan's contribution in the future lay in the realm of preventive diplomacy and in development aid. `We cannot and should not play a role in peace-keeping military operations,' he said. `But we should play one in a non-military way.'
In a masterly analysis of Japan's post-war history, Masahide Shibusawa, the Director of the Tokyo Jyogakkan College, pointed out that while Japanese political leaders had expressed regret for their country's aggression, this `had not led to nationwide acceptance of moral responsibility for past crimes'. The statements of some leaders `amounted to a denial of the past'. While Germany had paid an estimated $70billion in reparations after the war, Japan had paid a mere $7billion.
In particular, Japan had largely ignored the need for reconciliation with her Asian neighbours. Shibusawa cited a number of reasons for this - Asia's low standing on the world stage at the time; the Cold War which had engulfed China and Korea, two of Japan's main victims; the Allies' fear that any focus on Japanese colonialism and aggression might stir up nationalist feeling in their own Asian colonies; and Japan's `penchant to despise and underrate Asian nations', which stemmed from her pre-war obsession with catching up with the West.
Shibusawa's exposition, and that of the Japanese politicians, made a deep impression on those attending the conference. A former British serviceman responded with an account of his visit to Hiroshima with a group of war veterans. He apologized for his country's pre-war arrogance which `drove Japan into a corner'.
The last meeting of the conference fell on 15 August, the day on which in 1945 Japan accepted defeat and Korea gained independence. Keisuke Nakayama, Director of the Asia Center, Odawara, described how he had been in tears early that morning as he reflected on his country's past. Later, in a moving moment of reconciliation, one of the Koreans present called him back to the platform to shake hands.
299
The symposium also examined the challenges facing peacemakers today. Cornelio Sommaruga, President of the International Committee of the Red Cross, told the conference that whereas 95 per cent of those killed in World War I were soldiers, 90 per cent of those killed in the Lebanese War of 1982 were civilians. `We need less violence on TV, in our streets and in our schools,' he said. `We need more money for food and blankets, and less for bullets and mines.'
`Right now we live in the period of counting our dead, our missing relatives, our destroyed homes, mosques, churches,' Mato Zovkic, Vicar-General of the archdiocese of Sarajevo, Bosnia, told a session on post-Cold War Europe. The minorities in the ethnic cantons of Bosnia would only be safe `if we keep dismantling the hostile mentality in our hearts and in our communities'.
Another session, with speakers from seven African countries, focused on the challenges facing Africa. `In the peace circuit one does not often hear the words reconciliation and healing,' said Bethwel Kiplagat, a former Kenyan High Commissioner to the UK. He spoke of the need for peace-making efforts to touch `the deep underlying causes which are often in the spiritual realm: fear, anger, hatred and revenge'.
Speakers from Ethiopia and Eritrea described their own work for reconciliation. After 30 years of `brutal' war, said Eritrean administrator Osman Ibrahim Shum, `we knew we needed each other and should start on reconciliation'. Mammo Wudneh, Chairman of Ethiopia's Writers' Association, spoke of his attempts to change his neighbours' hostility to the Somali and Sudanese refugees in their midst, and to help Ethiopians in the Eritrean capital, Asmara, to live peacefully with their former enemies.
The symposium also examined relations between different faiths. At the opening session, the Venerable Maha Ghosananda, Supreme International Patriarch of Cambodia, spoke of the link between the individual and society. `If I am good to all beings,' he said, `then they learn goodness and are good, in turn, to others. If I am bad, they harbour hatred and resentment and, in turn, pass it on. So if the world is not good, it is because I am not good.'
289
At another session Hindu, Muslim, Christian and Jewish speakers addressed interfaith relationships. Rajmohan Gandhi, of India's Centre for Policy Research, spoke of the way his life, as a Hindu, had been touched by his country's Muslim community. `My picture of my past or India's past is incomplete without Islam and its adherents,' he said. `My identity is partial without them.'
Abdulaziz Sachedina, Professor of Islamic Studies at the University of Virginia, USA, presented a paper on the Islamic Theology of International Relations. He was followed by Jacqueline Rougé, a former Co-President of the World Conference on Religion and Peace, and Jean Halpérin, Professor of Jewish Thought at the University of Fribourg, Switzerland. Rougé referred to Christians' failure over two millennia to live up to the `very principle of their religion' - peace and reconciliation.
Workshops - on Ireland, Lebanon, South Africa, the Horn of Africa, Bougainville, `the wounds of history', and on Japan and Korea - gave peaceworkers from these areas a chance to present the nuts and bolts of healing and reconstruction. Later a young Japanese woman described how she had run up to one of the Korean speakers at the workshop she attended. `I was shocked to discover how ignorant and uninterested I was about history.'
The final meeting of the session gave the audience a chance to respond to the presentations of the previous days. `In Cambodia I feel isolated,' said a former government minister. `Sometimes there is a lot of scepticism about a rebirth of our country and people. Caux helps me to know that I'm not alone.' He spoke of the trees he could see out of his bedroom window at Caux - the `trees of universal love' and the `tree of pardon, which remains tall in the face of all the winds of life'.
`This place frees you to think of others,' said a politician from El Salvador; an African student said that her faith in her continent's leadership had been revived; a Somali exile said that her `spirit had come alive again'; an Israeli woman spoke of the need to `talk about trust' before talking about territories; a veteran of the South African bush war affirmed his determination to work for reconciliation on his return.
Moments of truth, which, like those of the last 50 years, offer a hope for peace in the years to come.Mary Lean