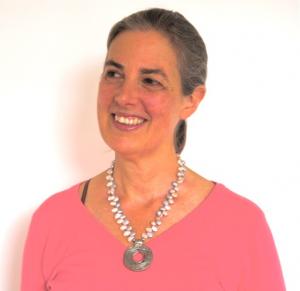 Maria del Corral was born in Bogota, Colombia, in 1957. Her parents became interested in the work of Initiatives of Change (IofC) in the 60's when Maria was a little girl, and were hosts to a Dutch couple, Peter and Digna Hintzen, during their first visits to Colombia as part of the IofC team. 
In 1976 Maria went to study A levels at an Oxford College, and lived for two years with another IofC couple, Brian and Juliet Boobbyer, taking part in meetings with students in Oxford. She found hope and inspiration for her life direction, in seeing people who were so committed to living a life of higher purpose, and whose lives truly showed the reality of their ideals. 
She went on to study agriculture at Reading University in the UK. Being a city girl and daughter of a rather eccentric intellectual, her interest in agriculture stemmed from a combination of her love of nature, and her deep concern about Colombia's badly torn social structure.
After marrying in 1988, and giving birth to two daughters, Maria became general manager of a family owned manufacturing electrical firm, leading a team of between 60 and 100 employees, most of them women. During those most challenging years, she did her best to stick to her values in a most adverse environment. The example of both her parents and the IofC couples she had shared with, gave her strength and allowed her to navigate many tricky crossroads, which can be summarised in putting human values before profit. Amazingly enough she found out this approach tends to increase profit, not diminish it.
In 2008 she left her work as manager to become a professional Coach and has been working as an independent professional since, including amongst her interests the development of a small agricultural project near Bogota, plus her ever present devotion to art as a painter.
Presently Maria is part of a team of IofC in Bogota, presenting workshops on a variety of topics monthly, plus participating in other initiatives related to re-building the structure of Colombia's society devastated by over 50 years of internal guerrilla war.