My behaviour is my reflection to the world, Teenagers workshop, Johannesburg, South Africa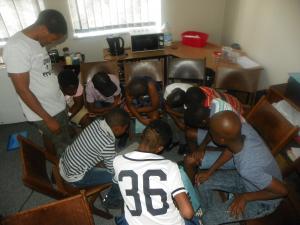 On 6th April, teenage boys and girls between the ages 10 – 15years from Protea Glen, Kagiso and Noordgesig (areas around Johannesburg) gathered at the Initiatives of Change (IofC) office in Klamson Towers, Johannesburg to have fun and learn at the same time. The motivation that drove them to come that day was to explore a topic called 'Behaviour' whereby the IofC team guided them through the positiveness and the negativeness of behaviour and what the consequences are thereof.
Cleo Mohlaodi explained to them about IofC and its programmes to give them an understanding of the work that the organisation is doing.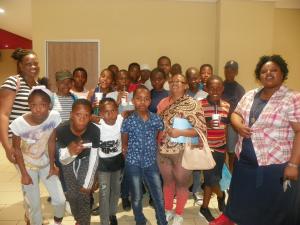 The DVD entitled "Beyond Forgiving" was shown with an introduction from Thapelo Ramphele.  Thereafter there was a question and answer session to see what the teenagers learnt from the movie relating to the behavioural side of their life journeys.
The teenagers got an opportunity to role play an incident that leads to bad behaviour.  Following this they had to illustrate their emotions that cause them to behave badly, using paint or dough. One of the boys, Tshegofatso shared, 'when I misbehave I hurt others, but today I realise that behaving with respect is the best thing I can do for me and others.'
Cleo concluded the day by giving the teenagers pledge forms to fill in and thanked them for coming.
Reported by:  Lucel Snyers
Reported by:  Lucel Snyers