My community changes when I change, Creators of Peace Rosettenville, Johannesburg, South Africa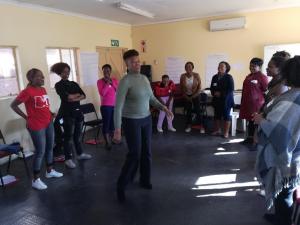 Within the partnership between City of Johannesburg and the Creators of Peace program, we continued to reach women in different regions across Gauteng province. The Pioneer Skills Centre in Rosettenville welcomed us from the 30th May to 1st June 2018 to a group of fifteen women.
Rosettenville is situated in the inner-city of Johannesburg, near the famous race course named Turffontein. The area used to be occupied mainly by the Portuguese community and later it became an area consisting of Africans, Coloureds and foreign nationalities. When we drove in we all picked up a scary feeling passing drug addicts and unemployed men who sat in the corners of dumping areas and dilapidated buildings. This area, with its challenges, changed from a classy rich man's area to a poverty stricken area.
Most of the women in the group desired to live a changed, emotionally healthy lifestyle, wanting to have direction and purpose in life and above every challenge that they face, they still want to be advocates of change. Being asked to imagine how 'Peace' looks to them, the majority mentioned that it is reconciliation and forging, a loving bond with their families and to live happily. A lot of the negative self-view stemmed from painful upbringing and desperate choices that leads to an unhappy life.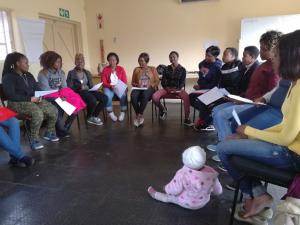 It is amazing how one can drown in life's challenges and forget one's value and a moral based lifestyle. One participant, Gladys said, "I didn't know I have values that shape my life, and I always put myself as second best. As from today I am putting myself first so that I give the best of me to my loved ones." Over the three days the group learnt not to compromise themselves to satisfy the next person but to do what pleases them and start appreciating themselves.  "When a person is wounded, they pass the wounds on to the community," were the words of Portia Mosia, a co-facilitator when she guided the group through a gathering point named 'What Builds and Destroys Peace'. She further elaborated that "I am no longer afraid of challenging conflict in my life because I know when conflict arises it's my opportunity to rebuild the broken structures to create peaceful structures between me and my family and friends."
Some of the outcomes were: to forgive family members; aiming to become successful business women; initiate honest conversations in order to build unity in the family; continue to practice a reflective lifestyle in order to experience the peace that they desire; love themselves and become more confident; accepting that not everything will go the way one wants it to, but that peace can be sustained. A support group was initiated and the group wants to have time to talk further about forgiveness and inner peace.
Thank you Initiatives of Change, City of Johannesburg and Aulicious food and décor for an educative and fruitful journey of healing through telling our stories to the nation.
Reported by
Cleo Mohlaodi and Lucel Snyers