My little thing - Peace Circles in Kipcherere Village,Baringo County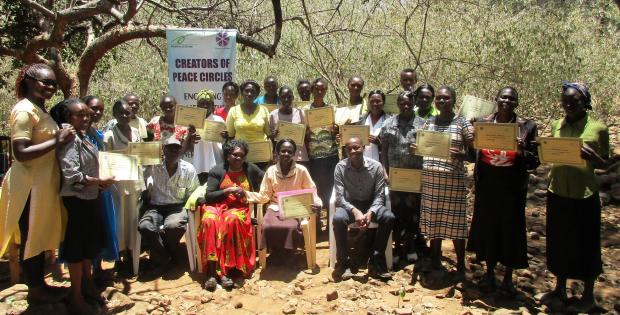 'If we all had our little thing in our areas of strength, the world would be a better place. It is those things that people take for granted if done persistently and passionately, that can make a big difference'. Those were the words of John Waweru, a representative of the Green Belt Movement that was initiated by the late Professor Wangari Maathai - the first African woman to receive the Nobel Peace Prize.  He was speaking to the 21 women who participated in a Peace Circles in Kipcherere village, one of the remotest areas of Baringo County on 2-3 March, 2016. The participants had been invited from ten women's groups in the area, with each group bringing two representatives and one other sent by the area Assistant Chief.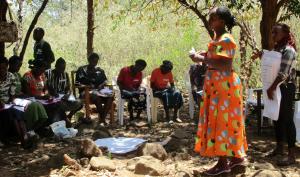 For some of the ladies, it was their first time ever to share their stories and not even time would stop them from sharing what had made them who they are and the turning points in their lives.  Some went on beyond the allocated time but everyone listened patiently and empathetically.  Elizabeth could not hold her tears and her hands were shaking as she shared how she had gone through an abusive marriage to the point of her husband trying to poison her. Eventually, she made amends with her husband who died two years later. However, she still held a lot of bitterness towards her husband and the Peace Circles gave her an opportunity to let go of the bitterness and find peace in her heart. She found a safe space in Peace Circles to share with the rest what was in her heart.
The Forgiveness Session gave an opportunity for the participants to reconcile with themselves and others - from close family members to neighbours, friends and even people who had died.  Letters, songs and poems of forgiveness and apology were written and shared.  The women were experiencing new beginnings in their lives. It was a moment of inner liberation. However, even as others were freeing themselves from bitterness and hatred, pressure was building up between two participants, who turned out to be relatives, without anyone's knowledge.  The facilitators noted the silence and behaviour of one of the ladies and reached out to her.  She expressed her anger and frustrations towards other participants whom she accused of speaking ill of her the previous day.  It was a moment of truth and a good measure of the impact of the Peace Circles training with one demanding apology and the other refusing to give it and justifying her actions.  But conflicts are not always bad; they can be productive if handled well. It was true in this case because with the help of a mediator, the two went outside, held a conversation that led to the two reconciling their differences.  The lady who felt offended later shared how she had suffered with anger for a long time but she vowed to learn to heal and help other people who are like her.  'I am very grateful for what I have learnt today from the Creators of Peace,' she concluded.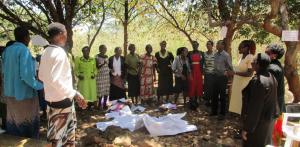 Lack of finances is a common challenge expressed by many when starting any project. The women decided to overlook it and rather use what they had to start a project.  They felt that one of the projects they would do together is to either rear chickens and call them Chickens of Peace or start a tree nursery called Trees of Peace. This would ensure that they remained together as a group.  They would also train other women in their churches and their individual groups to plant at least one tree of peace as a reminder that they have a duty to nurture peace just like the tree needs to be nurtured by being watered and protected.  On hearing this, the Chief who was present at the closing ceremony offered to give them space in the public land for the tree nursery project.
The area District Officer (D.O), the Constituency Development Fund (CDF) secretary, and a representative of the Member of County Assembly (MCA), were also present during the closing ceremony to encourage the women on the path they had started walking on.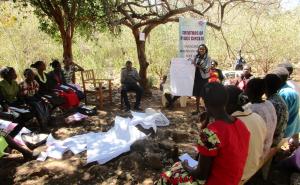 The D. O., Madam Mwatate, was very impressed by the Peace Circles program and urged the women not to give up in the journey of being peace agents which they had just begun.
There was jubilation as the women received their certificates with each woman giving a song of her choice with the rest joining in. The women enjoyed a cold drink provided by the MCA of the area. It was a good treat and a beautiful way to end the training given the hot sun in the area.
Facilitators and Report by
Mediatrix Masava and Mumbi Wambugu