A new path to forgiveness - Creators of Peace Braamfischerville
                                                                                         "Forgiveness brings Inner healing and freedom"
Creators of Peace was invited from the 11-13 April 2018 to Braamfischerville, Johannesburg to facilitate a Peace Circle with a group of young ladies.  These women explored their understanding of Peace and Inner Healing.  They wanted to learn how to find self confidence and deal with anger, forgiveness.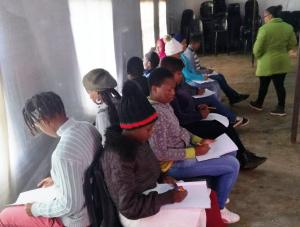 Understanding what Peace is, allowed an open space for more questions and a deeper understanding of Peace, in the midst of life's challenges.  Awareness of the importance of personal development helped the group identify personal values to improve their personal characters.
Lack of finances, career guidance, anger and self-love were some of the personal challenges identified.  Separating personal and family concerns was difficult because of a culture of living constantly for others and not looking after themselves.  This culture causes a lot of conflict where people destroy and vandalize a lot of community assets, crime, illegal mining and corruption.  The need to be more responsible was highlighted as a new developing lifestyle.
Promoting a lifestyle of empathetic listening through activities of experiencing how to be a good and a bad listener, indicated the importance of emotions when communicating. A reflective lifestyle was introduced as a tool to enhance self care and confidence.  The group appreciated learning the skill of reflection and the support in personal sharing.  Being aware that life is good and bad, however having inner peace is a strength driven by one's purpose and a better life for them and others. Some of the dreams that these ladies have are to become business women, IT specialists, speech therapists, advocates, nurses and better mothers for their children. Most are single parents.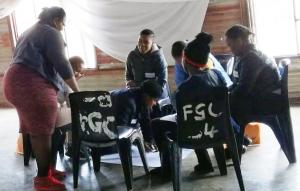 Sharing the benefits of the importance of forgiveness to aid healing the inner person, led to the group's readiness to forgive and live a changed peaceful life.  Lucel Snyers, one of the co-facilitators shared that "having grown up with an absent father, and only meeting him on his death bed, made me experience the internal battle of hate from unanswered questions. Choosing forgiveness was hard, but it was the healing between my late father and myself."
Putting peace into practice helped the group forge ahead in addressing their realities, such as disunity at home, lack of communication within the families, rape, domestic abuse, anger, unforgiveness, homosexuality and lack of finances to support their studies.
We concluded the three days with some of the participants expressing the next steps that they will take. These included: applications for sponsorships and bursaries to study further; including the community by creating community events to address issues such as crime, teenage pregnancy; working together to halt the vandalizing of Braamfischerville; individual initiatives to promote family reunions; seek personal counselling and mentoring.
Thank you to the City of Johannesburg and Saved by Faith Church Braamfisherville, Aulicious foods and Deco and Creators of Peace, South Africa.
Reported by:  Lucel Snyers and Cleopadia Mohlaodi