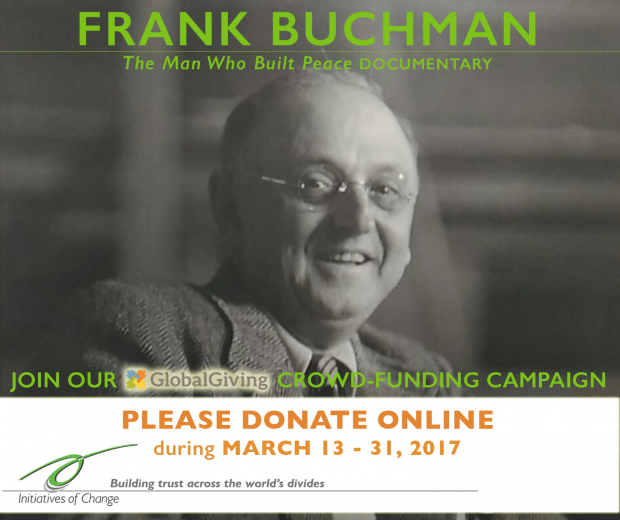 Dear friends,
Today is the day!
The two-week crowd-funding campaign using the GlobalGiving online platform begins today at 9:00am EDT US (1:00pm GMT) and ends at midnight on March 31, 2017.
Please use the link below to make an online donation and help us raise the much-needed funds to complete and release the Buchman film: https://www.globalgiving.org/projects/frank-buchman-documentary-of-a-glo...
You can maximize your support (especially for those considering larger amounts) by donating on the BONUS Day, March 22 (during 9:00am-11:59pm EDT US), when GlobalGiving will be matching the donations with 20%.
All those who donate will be recognized in the film end credits unless they indicate otherwise.
This film is our historical chance to offer the world Buchman's philosophy and approach for global peace-building based on personal change.
We will share the film with new audiences and generations by promoting it at international film festivals, in Caux and at Asia Plateau, as well as in our trainings and community dialogues worldwide.
All contributions, whatever amount large or small, are greatly appreciated and encourage our efforts to promote IofC and diversify our fundraising sources. Special gifts are available for contributions of $75 or greater. This initiative will be a success if we meet and exceed our crowd-funding goals.
The documentary is almost ready – we are 'at the finish line' – help us make one last step to cross it and celebrate together!
With warmest prayers and greetings,
Igor Ene
IofC International Knowledge Management & Operations
E-Mail: igor.ene@iofc.org
Mob.: +447438419119
www.iofc.org
p.s. For more background information and the film 'teaser' click here:
http://www.iofc.org/advance-note-frank-buchman-documentary-crowd-funding...
p.s.s. Please note that:
> All donations are tax-deductible for U.S. taxpayers to the full extent permitted by law. GlobalGiving (tax-exempt ID: 30-0108263) handles all donor tax-receipts.
> UK taxpayers paying in GBP are eligible for Gift Aid. Just check the box during checkout to make your donation count for Gift Aid. Gift Aid allows charities to reclaim tax on a donation made by a UK taxpayer, which means that your donation is worth 25% more! GlobalGiving processes all Gift Aid claims for our partners with the UK government.