IofC Director receives media award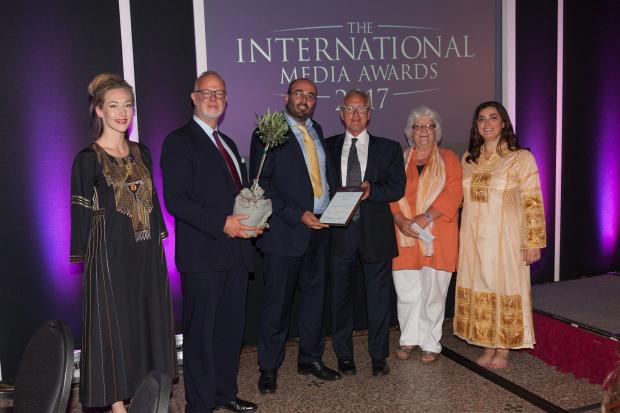 Dr Imad Karam, Executive Director of Initiatives of Change International, received a Peace Through Media Award at the Tenth International Media Awards dinner in London last month. Describing him as an award-winning Gazan documentary film maker, the nomination cited his films on forgiveness and peacebuilding, including Beyond Forgiving and The Imam and the Pastor.
In accepting the Award Dr Karam said that he had a passion for making films that can inspire change – 'that take us from a place of hatred to a place of love, from group allegiance to embracing everyone, from despair to hope. I use real stories to demonstrate that it is possible, that it is happening.'
The Awards dinners were initiated by the Next Century Foundation (NCF), which works primarily to support peace initiatives in the Middle East, North Africa and South Asia. This year's event, hosted by the NCF and the International Communications Forum, brought together 150 journalists, broadcasters and others dealing with these regions.
The dinner opened by screening the names of over a hundred journalists working in these regions who have been assassinated in the past three years.
Responding to this sobering list, the Earl of St Andrews said that at a time when the dangers facing journalists are so huge, 'it is essential to salute those who uphold our right to know the truth. They are among the heroes of our time.' The International Media Awards 'bring together people from many backgrounds who stand for truth, integrity, justice and fairness,' he continued. 'It is heartening to be reminded that there are many prepared to risk all to bring us the truth.'
Among those who received awards were Lyse Doucet, the BBC's Chief International Correspondent, who is key to BBC coverage of the Middle East; Geoffrey Lean, Britain's longest-serving environmental correspondent, who has focused the role of environmental degradation in conflict regions such as Sudan's Darfur Province; Ohad Hemo, the correspondent for Palestinian affairs on Israel's biggest TV channel; and Namak Khoshnaw, whose documentary films focused international attention on the plight of the Yazidi and Kurdish people living under Islamic State rule.