Youth prove their influence in improving land and security
By Tiffany Choo, 2017 Communications intern
In a bid to create a safe space for youth to express their opinions and expertise, 15 young entrepreneurs, grassroots activists, educators, environmental professionals and students gathered to take part in the Emerging Leaders Programme during the Caux Dialogue on Land and Security (CDLS) in July.
During the 5-day programme, participants interacted with peers from different countries as they learnt new leadership skills and techniques, networked and exchanged ideas on projects they were starting in their home countries. They were also able to discuss their projects with people from government, NGOs, international institutions and the private sector, who were taking part in CDLS, in a space where hierarchy didn't exist.
 One participant was Nhat Vuong, co-founder of WaterInception, which uses generators to harness humidity in the air to produce clean drinking water even in places as dry as deserts. 'I did this to get out of my comfort zone,' he said. 'I even managed to meet the Minister of Environment from Zimbabwe. She even showed some interest in my business.'
The programme exposed participants to a safe, non-judgmental environment where sensitive issues could be addressed regardless of cultural background.
'It's a very welcoming environment, especially for a person who's never left their country before,' said 23-year-old David Kennedy, a teacher and outdoor educator from Melbourne, Australia, who specializes in indigenous education. 'There are some Australians here to give me a sense of home, but there are others here from countries that I've never even heard of.'
PhD student Kristian Grayson had learnt about CDLS through participation in the Sustainability Impact Mentoring Programme, run by Initiatives of Change Australia. This programme connects young environmental professionals or students with experienced mentors in the environmental, sustainability and international development fields.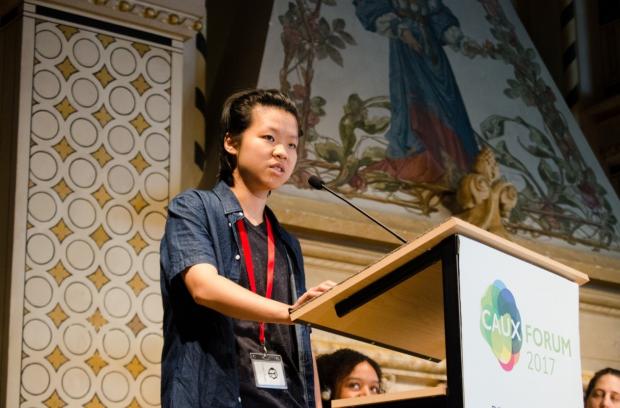 Grayson was able to use the CDLS platform to pitch for his idea of a 'Portable Concentrating Photovoltaic System' which will help communities to access renewable energy technologies. He is also involved in a project called 'Listening to Land', which grew out of discussions at CDLS and explores how to incorporate and integrate indigenous knowledge and land practices into existing land management techniques.
'Young people have solutions and opinions that deserve to be heard,' said Weng Wen Yu who co-founded the Emerging Leaders Programme along with CDLS coordinator, Irina Fedorenko. 'They deserved to be engaged because they might come up with solutions that will change the world.' Participants had been chosen not on the basis of personal achievement or social status, but of how passionate they were about land and security.
'What I love about this group is that they're so different and they're all in very different stages of their lives, but what they have in common is their passion,' she said. Speaking to potential applicants for 2018, she said, 'You don't have to be working on something technologically difficult or that's going to grab headlines. Show us a compelling story; show that you've been thinking about these things, that you care about land and security.'