Volunteers positions for "Towards an Inclusive Peace"
Multiple volunteer positions open: communications, fundraising, finance & logistics at the Caux Forum 2018!
Location: virtual & physical at Caux, Switzerland
Duration: virtual from mid-October 2017 until mid-August 2018 (can be adapted to availability of selected candidate; and physical from the 8th – 17th of July 2018)
Working language: English
Be one of the team members of Towards an Inclusive Peace, an event part of the Caux Forum, and gain valuable peacebuilding experience while broadening your network!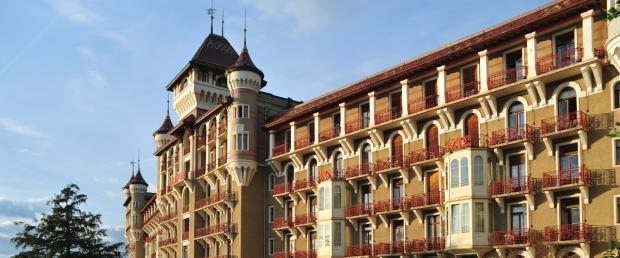 What is the Caux Forum?
Sharing personal stories in a safe place, taking time to reflect, learning through service and trainings, and engaging in a wide network of change-makers from around the globe: that is what over 1,500 participants experience every summer during all Caux Forum main events, dialogues and training programs. Caux is a catalyzer of change: it encourages individuals to explore their inner strengths and their role as change-makers, under the principle that everyone has the potential to make a difference. The Caux Forum is organized by CAUX-IofC Foundation in collaboration with the Initiatives of Change network and its partners.
We live in a time of increasingly complex social realities in which violent extremism is becoming more established. Taking different forms and constantly changing, we are all challenged by this growing phenomenon and are often ill-equipped to respond effectively and in ways that are sustainable. Innovative approaches are required. Towards an Inclusive Peace seeks to go beyond security-centered approaches, taking a peacebuilding perspective based on ideas of conflict transformation to address this phenomenon by framing it as another expression of deeply rooted and often invisible conflicts, which have been unresolved for years.
Volunteer positions open
After a great kick-off event in 2017 where the root causes of violent extremism were discussed and trainings on Narrative Analysis and Community-Based Indicators were offered to participants, Towards an Inclusive Peace is looking for volunteers to broaden its team for the second year of the event that will take place on 11-15 July 2018.
As part of the Towards an Inclusive Peace team, you will primarily assist with the process of preparing, running and evaluating the event. We are looking for volunteers for the following positions:
Communicators (2 people, one of them a native French speaker) with strong working experience with social media and/or a journalist background
Fundraising & finance (2 people, one with grant writing experience)
Logistics (1 person willing to be an event "runner", being creative and active)
You will participate in pre-event Skype planning meetings, having the chance to influence the design of the event. During the event, you will be in direct contact with speakers, trainers, participants and attend the sessions you will be assigned to, gaining specific knowledge of cutting edge discussions about the role of peacebuilding in addressing violent extremism. Also, thanks to the diversity of our participants, you will be able to meet change-makers and peacebuilders from around the globe.
Towards an Inclusive Peace is a great opportunity not only to expand your network but also to address one of the world's most pressing issue today while gaining expertise in intercultural communication and specific peacebuilding tools. If you want to be part of the dynamic team from around the world that is dedicated to the process of preparing and running the event, please send us your CV (not more than two pages).
Download pdf with all information concerning the volunteer positions.
Please state your interest and motivation in an email by Thursday, 5 October 2017 to eliana.jimeno@cauxforum.org and johannes.langer@cauxforum.org