India's Department of Post has commemorated the fiftieth anniversary of Asia Plateau, the IofC conference centre in Western India, with the publication of a First Day Cover envelope, on sale in post offices. 
Launching the special cover, Ganesh Sawaleshwarkar, the Regional Postmaster-General, said, 'The Department of Post is a messenger like you.  A postage stamp is a thumbnail of information, a small window through which you can initiate new learning in the minds of those who receive it. Your courses aim at a change of attitude and that change requires moral values and ethical thinking.'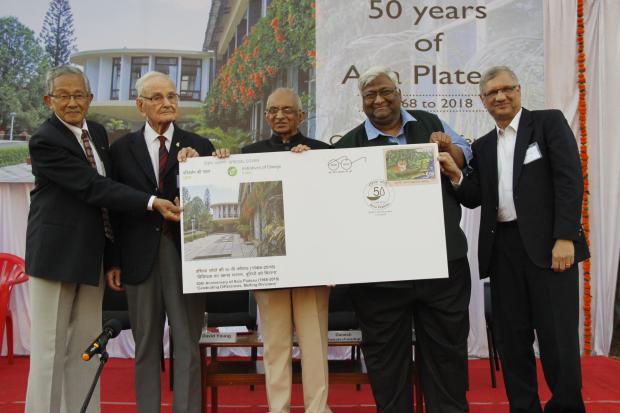 (l to r) Niketu Iralu (Asia Plateau trustee), David Young, Ravindra Rao, Ganesh Sawaleshwarkar, Sudhir Gogate (Asia Plateau trustee)
The launch took place at the start of a 50th anniversary conference which has brought 300 people from 41 countries to Asia Plateau. Also participating were many citizens and officials of Panchgani town, in which Asia Plateau is situated.
'Since 1968, to this quiet town have come hundreds of thousands of people from all over the world,' said Ravindra Rao, Director of Asia Plateau. 'Among them have been political and religious leaders including the Dalai Lama, and Indian Cabinet Ministers – and hundreds of senior Indian civil service officers, business executives, students, teachers, villagers who have discovered here that the Inner Voice can help them deal with the tough situations they face.'
Dr Rao paid tribute to the many from India and other countries who gave their services to build the centre, including its first Director, R D Mathur, who is unable to travel. At a time when nations were breaking free from colonial rule, Asia Plateau aimed to be a light to show a way forward.
He was followed by former Indian Army officer David Young, who in 1966 was invited by Rajmohan Gandhi, an initiator of the centre, to help manage the construction of the first two buildings – a challenge he and his wife Margot accepted and accomplished. Now aged 96, David travelled from England to participate in the celebration. 'A fiftieth anniversary is a chance to look back,' he said. 'But also to look forward, which is a bigger challenge. The great value of Asia Plateau is that its work does not stay here, it goes out round the world.'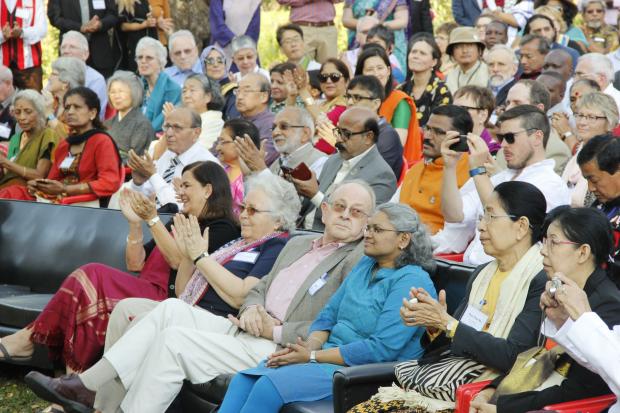 Photos by Nhat Nguyen