Pan Africa conference on good governance Accra, Ghana
Good governance has been signaled as the cornerstone of sustainable development by the Africa Union in its forward-looking roadmap, "The Africa we Want – 2063", but, this was also emphasized more than 20 years ago by former Secretary General of the UN, Kofi Anan. "Good governance is perhaps the single most important factor in eradicating poverty and promoting development," he concluded.  And 10 years before that, the World Bank raised a red flag about the lack of good governance when it noted: "A crisis of governance underlies the litany of Africa's development problems".  
Decades later, Africa still has too many examples of countries and their people damaged by poor or corrupt governance. A crisis that must be tackled if Africa is to reach its potential so often written or spoken about.
To contribute towards solving the governance crisis in Africa, Initiatives of Change Ghana (IofC Ghana), in partnership with the Africa Coordination Group (ACG), University of Ghana and the IofC International Council (IC), is organizing a high-level Pan-African Governance Conference themed:
'Ethical Leadership and Good Governance:
Key to Building a Sustainable Africa'
It will take place at CEDI CONFERENCE CENTRE, University of Ghana, Legon between 26 and 28 May 2020. The timing and location of this conference are symbolic, starting on Africa Day in the country that carried the first flag for Africa's liberation from colonialism. 
The IofC Pan-African Governance Conference 2020 will bring together a wide range of leadership & governance experts, civil society, political and business leaders, policy makers, traditional leaders and students from around the world.
The event will offer an assortment of professional and personal development opportunities while defining the new leadership and governance landscape. 
The conference will aim to answer these questions:
What can we do to inspire and promote good governance, ethical leadership and sustainability in the countries of Africa?
How can we equip, train, mentor and build capacity in the new generations that will be moving into leadership positions in the future?
How can we best support and connect those in leadership positions already committed to ethical practices and incorruptible leading  -  and sustain this commitment?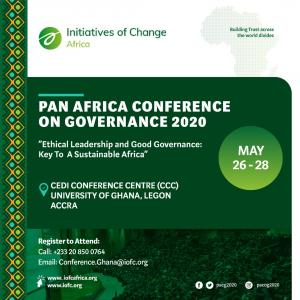 The Conference will continually return to its key focus:  what we  -  citizens, business, political and community leaders  -  will take forward from this event to make a practical difference.
Given this focus, the key objectives for the conference are:
Build an unstoppable movement for Good Governance in Africa
Lobby for ethical leadership as a non-negotiable for leaders in Africa
Explore practical ways of making Africa sustainable for its people
To achieve these objectives and chart a way forward from the Conference, one practical outcome will be the launch of Initiatives of Change for Governance (ICG), an ongoing fellowship of business, political and community leaders who will work through Chapters in different centres as catalysts for building a good governance ethos in all sectors of society. 
The ICG will be launched at a special event within the Conference, a facilitated Round Table of senior business, political and community leaders.  It will be based on the successful model of the Initiatives of Change for Business (ICB), a fellowship of business people who support each other in doing business that is always ethical as well as competitive. 
This is an opportunity to share best practices, experiences, knowledge and inspiration with like-minded individuals, institutions and organizations from across the continent and beyond.
What is Initiatives of Change?
Initiatives of Change (IofC) is an international movement inspired by the possibilities that emerge when people of goodwill and determination in both public and private sectors partner to take on problems that seem intractable on the surface, but solvable when minds, hearts and inner inspiration combine.
Over the past 70 years, IofC has been active in over 40 countries across the world  -  in Europe, Africa, Australasia, Asia and the Americas  -  building bridges between diverse ideologies and peoples and cementing a process of bringing people together to find solutions through shared wisdom and by drawing on their individual inner inspiration.
IofC has been intricately involved in promoting ethical leadership and good governance in Africa from the early days of liberation from colonialism.  IofC's current focus internationally includes Trust Building as an important dimension to leadership, governance and sustainability. 
The cost of participation $300 exclusives accommodation, travel.
Register here
Please support this important event with a donation!