Peace is a Process – Creators of Peace, Namirembe Resource Centre, Kampala - Uganda
The Creators of Peace (CoP) Uganda took place from 20 to 22 February and was attended by 19 women from different denominations, organizations, and women holding very senior and important positions in Uganda. It started off with a word of prayer by Ms. Rose who prayed to God to use them as instruments of peace so that peace can prevail, not only in their families but also in the communities where they live.
The use of a thread during introduction clearly illustrated how peace starts with an individual before engaging others. After this exercise, the participants observed that one person's action in the family, village or at the work place can affect others. They concluded that whatever one does or utters can be the beginning of something positive or negative which one may not be in a position to control once it erupts.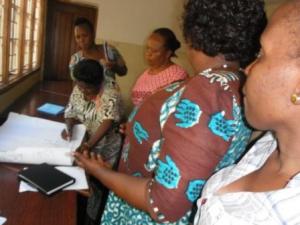 The topic of forgiveness was well received by participants. Documentaries such as For The Sake Of Peace, giving the story of the courageous and emotional apology by the Pokot women to the Tugen and Illchamus communities in Baringo County, Kenya and Beyond Forgiving, the story of reconciliation between South Africans, Ginn Fourie and Letlapa Mphahlele, amazed participants. One of the participants, Hilda, said that she had now learnt that humility, respect and forgiveness are the medicine for a peaceful community.'I have understood that personal story sharing can help mend a broken heart. Charity expressed, 'Having that space to be listened to was very good for me. We are all walking stories. I have been inspired by what I heard here today and am so grateful for Cretors of Peace,' she concluded. Martha said that 'peace is a process and apologizing to someone is not about a person's ego but it's all about kindness. Peace can only start with me if I make my personal contribution towards the process of creating it. It is also not a process where one can comfortably sit on a sofa while watching a soccer match expecting a win or lose. Peace is a process. We must put on full regalia and participate in it until the day the world will win and peace will be everywhere like air for every living thing to experience.'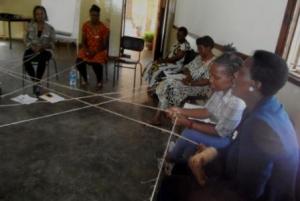 Margret couldn't hide her joy as she said that the CoP was one of the best gathering she has ever attended because it made them identify some of the things they were dealing with as parents, members of community and friends. Among the issues identified was poor parenting which was seen to be at the root of many problems. It has caused moral degeneration and injustices in the society that humanity is facing today. The participants decided to address it as a group by creating awareness through media, conducting counselling and guidance sessions in schools and also networking with community, religious and political leaders to discuss the same issues.
Goretti Bukombi gave the vote of thanks to both the participants and the facilitators and gave encouraging words. 'Peace makers are genuinely practical people who foster reconciliation and go an extra mile to work towards it as their own lives become the message.'
The certificates were issued to the participants as it all came to an end with a song 'Peace begins with me, peace begins with you, peace of the world begins with us.'
Facilitators: Mediatrix Masava and Judy Mumbi.
Reported by: Judy Mumbi