Trustbuilding dialogue with the Red Cross Volunteers, Kenya 
A one day Trustbuilding dialogue with the Red Cross volunteers at their facility in Nakuru town on 4th February 2022. The objective of the meeting was to try and help young people maintain peace within the campaign period and on to the election time. 
The group comprised of 21 young people drawn from different corners of the town who are currently attending to different chores; some are students in local colleges and some trying out some small business and other temporary jobs.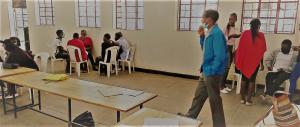 They all had a reason to volunteer: 
"Volunteering makes one active, makes you get new friends it opens doors for more life and job opportunities"  
Indeed the group looked active and ready to act. We went through the Kenya I care [1] Content and also the Clean Elections Campaign [2] since this is the election period in our country expected to happen in August. It was unfortunate to have four people in the group who had no voter's card despite having acquired an ID. 
I will not vote this time round. There is no reason to since the elections will be rigged and on the other hand, my vote does not count.  
This was the feeling of the majority who have with time been poisoned by the system. It took the better time of our dialogue to make them soften regarding this issue. A lot of effort and resources is needed to try and sensitize the public on their right to vote, integrity and also their role in maintaining peace in the country to avert a bloody or chaotic general election as has been the case in previous elections.  
On likes and dislikes most people had and issue with governance and pointed a finger at the authorities. But on a deeper reflection [3] it became clear that we all have a role to play in making good policies for a better life. 
On our group activity we looked at how life has had different transition since the primitive age, colonial times, independence times and now the current digital world. 
 It is seems that there are some things which are common to all human being no matter the era, like our need for peace, security, development, food and Shelter.  
 Likewise, we have some bad things which make life hard for many like greed, selfishness, bitterness; which are never overcome by civilization but by a change of heart.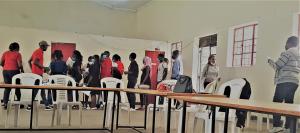 Lastly, we looked at the freedom glass: 
 What do I keep from the world but I realize is holding me back? 
It is clear that the society shapes our lives and it's good to have frequent introspection so as to correct the errors. 
Way forward... 
I had decided to refrain from voting in the general election but now I have second thought.  
I will promote peace during this election period. 
We look forward to a second dialogue with the Red Cross [4] who are now our partners in trust building.  
-Report and photos by john Njoroge and Anastasia Munene