'Respect begins with self-respect' outcome of Creators of Peace Circles in Lororo, Baringo South, Kenya  
Taking tea in many Kenyan societies is very symbolic as people socialize and discuss issues affecting them.  This is how the Chai ya Amani (Tea for Peace) got its name.
The second Tea for Peace (TFP) took place in Lororo, Baringo South on 1st July 2017. A good cross section of society, both young and old was represented.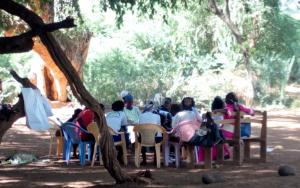 Mr. John, in the tradition of every meeting where the men talk first, stood to officially start the peace meeting. "We are glad that people from far have brought us together as a family," he said. "It is a challenge to us as residents here to organize such meetings for the sake of peace. Lororo is a place occupied by both the Endorois and Ilchamus, hence these talks would be a big advantage to how we relate with each other."
Some of the participants were previously displaced from their places of origin after the tribal clashes in Baringo county. Most of them carry a lot of bitterness in their hearts and there is need for healing so as to avoid revenge and future clashes with the current generation who has already suffered a lot.
In the "What Destroys Peace" session, lack of respect for other's space and human life was one thing they talked about for a long time. They said that if the tribe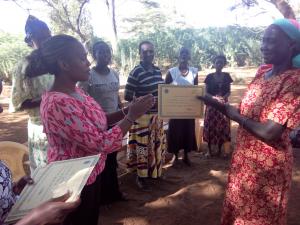 that chased them away from their homes and burnt their properties, respected them and had value for human life then they would still be in their homes doing their businesses as usual. Creators of Peace has been asked to go to this tribe and hold meetings like this so that peace can begin from respecting ourselves, then our family, next our neighbour and neighbouring communities. We can't live if we subtract respect from the topic of peace.
We were privileged to have a pastor amongst us and he talked about peace in families and shared his own personal story with his wife. He urged the participants to cooperate as family members so as to grow strong families which will make a strong community.
Women who had participated in Peace Circles before shared their experiences and how the workshop had positively changed their way of acting and making decisions with the rest of the group.
As we shared a cup of tea together with about four tribes of Kenya represented, it was clear that it is possible to stay peacefully together as we share so much in common. The meeting ended with thanksgiving, songs of peace and finally a word of prayer.
To support the TFP meetings in order to reach more people in the communities, kindly contact Mediatrix Masava the program coordinator at mediatrixmasava@gmail.com. Thank you.
FACILITATORS: Mumbi Wambugu, Maryan Lekesimon
REPORTED BY: Mumbi Wambugu.