Self-realization is the awakening of the true person inside - Creators of Peace, Ennerdale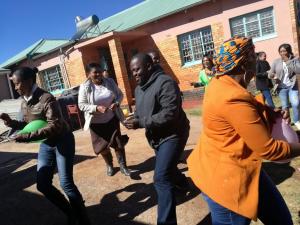 Creators of Peace, working together with the community of Ennerdale, situated in the south of Soweto, explored the Peace Circle with a group of seventeen men and women from the 16th to 18th June 2018.
During this period, the group opened up for honest conversations and became a support structure for one another. Having to face one's fears and given the opportunity to be authentic was fearful yet rewarding for participants. Through introspection, though painful, a new direction was found. Rudolph, one of the participants said, "For the first time I shared the hurt that I've been carrying for such a long time.  I never thought that I would and I even allowed myself to be vulnerable within. After this emotional awareness time I feel a burden is lifted off my shoulders."
Ennerdale is a developing community that is attracting good and bad aspects of change. This community has a mix of different race groups and a variety of belief systems concentrated herein.  The multi-culturism has an attractive  element of excitement, entrepreneurial lifestyles, learning, and diversity of living. Negatively, however, this is impacting this community with an identity crisis and lack of responsibility to the challenges that come with the diversity we call 'a democratic rainbow nation'.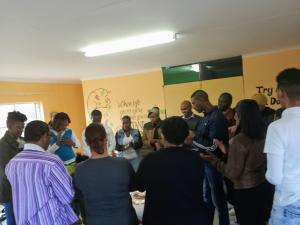 During the recap session the participants shared what positive effects the Peace Circle has had on them.  One of the participants, Candice, mentioned that; 'I couldn't get over the domestic abuse that I went through but I am now ready to forgive my ex-husband and move on, which is something I never thought I would do in this life.'  Another participant continued, 'I have made peace with my past mistakes and feel like a brand new person.'  Itumeleng said, "I have learnt to love myself first and I won't wait for someone else to tell me he loves me and I will stand firm on my decisions of self care and appreciation.'
Portia Mosia, one of facilitators mentioned that, if one does not forgive, he/she will be going through the same pain daily and even attract illnesses such as hypertension instead of healing and growing. "To forgive is not to forget but to learn a lesson out of your experience," were the motivating words that Portia passed on to the group as she explored with the gathering point called "Power of Forgiveness."
The third day ended off with a lot of appreciation to Creators of Peace. It was a beautiful beginning for this group and they feel revived, rejuvenated and re-energized.
Thank you to Aulicious food and Décor, Initiatives of Change and City of Johannesburg for the support.
Reported by Cleopadia Mohlaodi and Lucel Snyers