Trustbuilding Program, Nigeria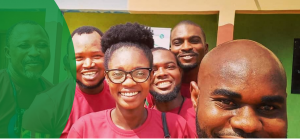 Through dialogues and workshops that bring together aggrieved communities and members of the police force, the trustbuilding team in Nigeria builds trust between authorities and the people of the community.  
Why is trust needed? 
Misconceptions from police officers, communities and other stakeholders about the police's position, purpose, and authority have been obstacles to achieving a desired modern police force. There is an urgent need to demystify what the uniform represents.   
Mistrust between young Nigerians and the police came to a clash when tens of thousands of people took to the streets to protest against police brutality in October 2020, which became known as the #EndSARS demonstrations. 
How is trust built?
Stakeholder dialogues and engagement
Under 'POLICE I CARE', trust is built through facilitated dialogues with different stakeholders (i.e. police, community, security agencies and government) to inspire people-driven service delivery. 
Mentoring participants
IofC team members are trained as mentors to follow up with participants after the dialogues and workshops to sustain the trustbuilding work in communities.