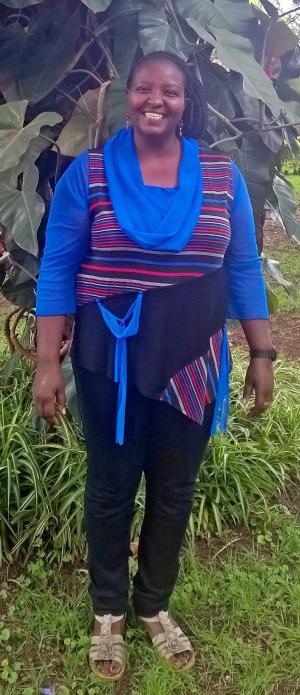 Rose Njeri Kamau is part of the Creators of Peace team of women who are courageously working for peace in Kenya. Rose offered her personal journey to be shared so that others can learn from it and be healed. As told to Talia Smith in advance of Creators of Peace Kenya's 10th year anniversary where the leadership of women like Rose will be honoured and many more trained to empower peace in their communities.
Rose Njeri Kamau was born in a village near Kiambu, Kenya's Central province, in 1973. Her mother had been raped and, at age, 17, forced to marry her rapist. When Rose's father left them her mother abandoned her as well. Leaving Rose with her grandparents, she re-married, had other children, and never told them about her.
Rose grew up among her grandparents, extended family and the people in her village. She was cared for by a poor and kind lady who suffered from a mental disability. When Rose was six years old she should have started school, but the lady did not have money to pay for her schooling and other family members were unable or unwilling to help. She visited the village chief and begged him to support Rose. He stepped in and demanded that her stepfather pay for her schooling, threatening to take him to court if he didn't.
"It was the determination and kindness of this lady and the chief that I managed to start school".
Life went on with its challenges: growing up without a mother or a family. "To this day, my brothers and sisters do not want to associate with me". Rose's grandmother passed away, and she grew up in great poverty, having to cook, clean, and take care of her stepfather's children in order to attend school. She went to school without books or lunch, and her stepfather often beat her. Sometimes she was even thrown out of the house and she would find shelter and sleep in a tree.
"One night I fell out of the tree and broke my arm".
After primary school she had to work as a housemaid. At thirteen she tried to commit suicide. She worked in difference houses for years, sustaining horrible exploitation and abuse, and through it all she was never paid: her mother collected her earnings.
"I owned two items of clothing, had no underwear, no possessions, nothing".
One day, when Rose was 17, she was married off to a neighbor. He was a good man, he brought her clothes and for the first time, Rose received care, comfort and safety. It was the first time Rose slept on an actual bed and ate meat. She was used to sleeping on a mat and eating leftover rice and vegetables. The meaningful part of getting married was that Rose received a surname, something she had not had 'the right to' before. Rose had an identity.
"Life was good."
Rose had her first daughter when she was 18, and her son when she was 21. But when their son was two months old, Rose's husband passed away from throat cancer and the problems returned.
Rose was sent away from the village of her in-laws. She left with slippers and her two small children, told to never return again. She had not a coin in her pocket or any documents. Rose had no choice but to return to her mother's village.
Her mother and stepfather were unwelcoming and hostile, but the lady who had cared for her during her childhood pleaded on her behalf to the village chief, who provided her and her children with a small house and food.
Rose got very sick, but in the midst of all this suffering, she witnessed great kindness: her 'Aunt,' the kind lady who had cared for her, took care of her again now, and her children. Members of her late husband's church arrived with food and clothes, and they took care of her hospital bill. When she recovered she lived at the church and received care and counseling. Her Aunt continued to take care of her children.
Both remained by her side as she struggled to find work and to keep hope; several jobs were in abusive conditions, and she was fired more than once for not being educated enough.
"I felt like I wanted to die again."
Then, in 2011, she met a lady from Initiatives of Change called Ann Gitu Njeri. Ann asked her why she was crying and Rose shared her story with her.
"I don't know who I am, where I come from, I don't know why God makes me suffer so much."
Ann invited Rose to a Peace Circle, an activity of Creators of Peace program.
"People were talking about things I have never in my life heard before, like inner peace and forgiveness."
The second day of the Peace Circle, Rose slept peacefully for the first time in many years.
At that Circle, Rose shared her story for the first time and cried for three hours.
"It was like something shifted deep in my heart. Others in the group also cried and I felt like they were sharing my pain. I felt a belonging, warmth; I felt like I was becoming a different person right there. It was magical".
Rose received training and became a facilitator for Creators of Peace. Now she shares her story so that others can learn from it and find their own peace.
After she became a facilitator, she met her biological father for the first time. She also went to her mother. She chose to forgive them both and left them, finally at peace. Rose's stepfather phoned her himself and asked for forgiveness then from her. Rose told him: "You are my only family; I will support and love you."
He blessed her and welcomed her back into the family; their relationship to date is strong.
"My life changed when I met Initiatives of Change. For 34 years I lived crying, full of hatred, revenge and pain. It has helped me see a way. […] I used to tell my children I wish I was dead and that their father survived. But IofC changed me. Now I tell them that God has a plan for us, and no matter our struggles, we are lucky to be alive".
Now, Rose lives with her two children and grandchild in a single room.
"Life is challenging but we manage. We are full of hope and love."
Rose sells second-hand clothes when she is not with Creators of Peace and takes care of her stepfather and mother who are sick.  They have changed too; her experience has made ripples of love and forgiveness.
Rose leaves a legacy with her story; it is her journey of sharing hope with other women.
"It doesn't matter if the tree has been cut in your life, a new branch will grow. I encourage people to look forward - tomorrow is another day."
To contribute to the "tomorrow" for peace that Rose is working for, please support Creators of Peace Kenya and their upcoming 10th anniversary celebration with a donation. Your gift will help enable a training for 200 women to learn skills to take a message for healing out into communities to more women with similar experiences.
https://www.globalgiving.org/projects/empowering-women-creators-of-peace-kenya/
Or if you prefer, you can make your donation direct to Creators of Peace via creatorsofpeace@iofc.org
Thank you to those who have already donated for your support.