Zimbabwe Youth Conference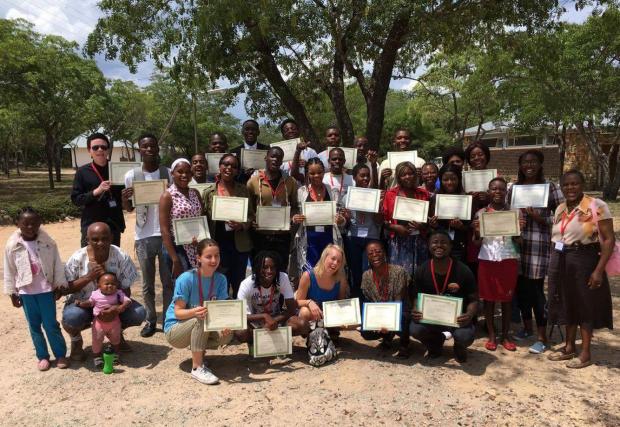 Moral Re-Armament/Initiatives of Change (MRA/IofC) Zimbabwe held a second national youth conference in Gweru at the Baptist Seminary Conference centre from 7 to 12 December 2017. The aim was 'Change – from Personal to Global'. A conference earlier in the year ran under the theme 'From a Group to a Team' and has seen MRA/IofC Zimbabwe establish two youth groups in Harare and Gweru which meet once every week as well as active involvement in local communities. Thirty young people between ages of 15-27 and representing five cities came together to learn more about 'Change - from Personal to Global' and 'Changes start with you and me; be the change you want to see; take the initiative'.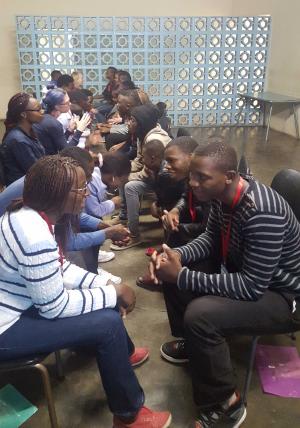 The aim of the conference was to:
equip young people with practical skills and inner skills to lead a moral visionary– based lifestyle;
begin a journey of self discovery, beginning with change within oneself;
build just, peaceful and inclusive communities for all;
create a connected community of empowered young people serving themselves and their community.
The youth team in Zimbabwe has gained momentum through the two main activities, namely outreach programmes in the community – for example with the Jairos Jiri Centre for the deaf and dumb children, Moral and Ethical Leadership Development with high school prefects and more recently in the universities. Alexandra Bjock and Kjesti Webb from Sweden supported the team in Zimbabwe during the conference, bringing their gifts of art and theatre in relation to leadership, and helping the group in selfawareness as they performed skits. Kjersti writes: 'I was happily surprised to meet the young IofC team of Zimbabwe. I was also blessed with a travel partner who is fairly new to IofC in Sweden. Alexandra has participated in our Global Peace Exchange and a Hope in the Cities weekend. I for one was extraordinarily inspired by these young people and even the HIV+ youngsters we met days after the camp and how amazingly willing they are to be vulnerable, share from their hearts, perform, make mistakes, tease, laugh, and have hope inspite of everything they have seen and gone through. And even more than that, there was always such a support from the group, which from where I come from is half the battle. I was also so touched by the work Angie and Abel Katito have done to inspire these young people in every action in their lives.'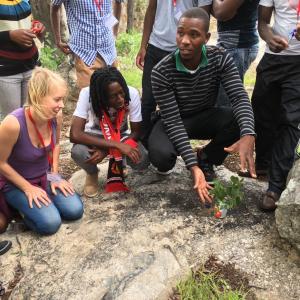 During the five days, focus was given to the IofC principles, ethical and moral values; self discovery through inner development and times of quiet; time to reflect and make decisions regarding what may or may not need to change in one's life; listening skills; practical activities; and the topic of forgiveness, learning from the experience of Ginn Fourie and Letlapa Mphahlele in the film 'Beyond Forgiving'.
Participants acknowledged that they had a life changing experience and challenged the MRA/IofC team of Zimbabwe to continue the work they are doing. They would also like to see such a programme rolled out to the greater part of the country - more relevant now especially in the Zimbabwe situation as people need hope and should be guided by the absolute standards as we look to rebuilding Zimbabwe.
Report compiled by Victor T Nyanhete