Change in Progress – camp follow up in Botshabelo, South Africa
"When hearts meet, change is bound to shine," this is the experience of the follow-up programme in Botshabelo.
 The Change in Progress (CiP) team headed to Botshabelo on March 18th to follow up with participants of the camp held there in December 2015. For three days, Cleopadia, facilitator and three mentors namely, Karabo Radebe, Jerry Chabane and Thapelo Ramphele, spent time in Botshabelo mentoring and caring for those reached and introduced to IofC last year.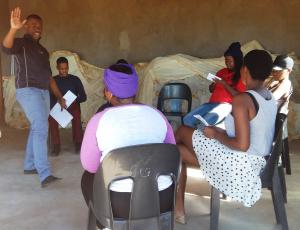 Time was spent training participants and offering a refresher for mentors. One participant, Mamello, expressed, "this is the best way to celebrate Human Rights Day, as youth developing each other. We hardly get the space to share our personal baggage and at the end of the day still feel empowered to face life no matter how hard it is, with the skills shared today."
While visiting Mrs Sakane, the founder of Relesedi la Sechaba, an NGO caring for the elderly, she shared, "Change in Progress is the only youth group we have met that cares enough to travel across provinces to check on us and maintain the promise of working together. You really are value based people." The group of elders wants IofC to host a Creators of Peace workshop before the end of this year.
With the aim of growing the pool of mentors and being sustainable in Botshabelo, Mmone Molefe, a university student pursuing her teaching degree, agreed to work together with Jerry Chabane who is a trained CiP mentor based in Botshabelo. We spent over five hours with Mr Jimmy Mooko, an entrepreneur, who was one of the speakers at last year's camp. He was so excited that we went to visit him and in conversation he offered CiP office space to host its monthly meetings. He will also give time to mentor the group.
As the faculty that carried this time together we really feel grateful for what CiP could achieve with the individuals and stake holders reached. We need to continue nurturing these relations. From the three mentors a consensus was expressed that a constant refresher on their mentoring role equips them to be better at caring for their peers and improves their confidence levels. Jerry Chabane shared that actions speak louder than words, meaning, as a mentor "I do not tell and advise people but it's through my actions that people will change."
With the success of this follow up, CiP would like to thank the following funders for believing in the programme's impact: Initiatives of Change South Africa, Irene Prestwich Trust, Friends of Africa Fund and Lesala's family for hosting us.
Report by Cleo Mohlaodi, Karabo Radebe and Thapelo Ramphele