Change in Progress, Personal Branding workshop, Waaigras - South Africa
As we drove on the gravel road north of Johannesburg, leading to Waaigras farm, Clifford, a participant of the Change in Progress (CiP) camp 2014, shouted in the 13-seater taxi we were all in, "Oh my, we are home!!" The whole taxi filled with laughter and agreement we indeed are in a serene surrounding. The day started gloomy, cold, with expectation of rain, but to our surprise Saturday, 28th March turned out to be sunny and full of learning moments during personal branding workshop.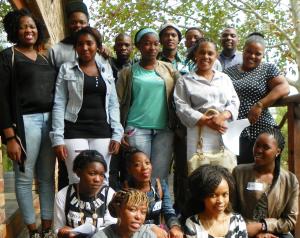 It was the first fellowship and follow-up workshop where the group from Kagiso and some of their camp facilitators that had attended the 2014 CiP camp (18 altogether), gathered under one roof to capacitate further their self-development process.
Input of behavioural analysis, marketing tips and inner reflection using the Johari window model composed the main session.  Informal sessions included a visit to Hendrik Masilela, a local farmer, For some it was the first time to see and be with cattle on a farm, and to hear what it takes to practise live-stock farming. Then participants had time to listen to our hosts, Helen and Anthony Duigan who shared their story dating from the 70s including how they constructed their own house and fought for the establishment of a Conservancy.
Karabo and Thapelo said, "We appreciate this interesting session. We see CiP growing stronger; the further development is not only for the participants but for us too. As mentors this space allowed to us to visually see the development of the participants over the past three months as well as the chance to identify where they further need assistance.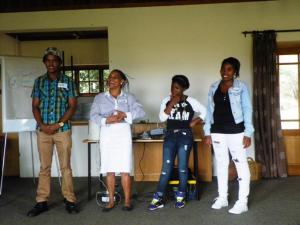 I was struck when a participant, Refilwe shared, "I loved exploring further and identifying my blind spots, through the Johari Window.  This allowed me to appreciate the person I am and change my perspective on criticism - when people criticise me they are actually guiding me not hating me, just loving me the negative way."  Her revelation encouraged and verified the relevance of CiP. Portia and Masego suggested that participants each bring a friend to the next workshop. 
Thanks to Helen and Anthony Duigan for hosting us, to Jackie Euvrard and Vincent for transport, Portia Mosia for co-facilitating with me, Thapelo Lekwakwe, Denise Msimango for joining us and Karabo and Thapelo for mentoring and taking on some of the logistic planning with me.
I felt so encouraged to see the fruits of such an event and regard it a privilege to care, groom and develop this future generation.
For information contact Cleo