Creators of Peace Circles in Ventersdorp - South Africa 
Maryna Koegelenberg, a former participant of the Creators of Peace Circle invited the Creators of Peace team to Ventersdorp to offer a Creators of Peace Circles , alongside the activities of a church revival, and observe as the town prepared to bury the remains of anti-apartheid struggle veteran, John Beaver Marks repatriated from Moscow.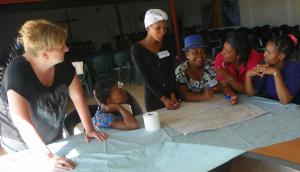 Ventersdorp is a town in the North West Province, South Africa. It is known for its history of being the battle zone of racial divides and apartheid as well as the birth place of the founder of the right-wing Afrikaner Weerstandsbeweging (AWB – Afrikaner Resistance Movement),  Eugene Terre'Blanche.  Today this town is struck with unemployment, illiteracy, all types of abuse and mostly wounded souls.
During the three days, 13 women, the youngest being 19yrs and oldest 50yrs, engaged together in conversation as they aspired to be peaceful in their heart and lives. Their greatest need was exposure to their inner feelings and space to open up, share past wounds and gain skills on how to start the healing journey. As difficult as it is to sit in one place as black and white South Africans and hold an honest conversation, Peace Circles managed to do that with an outcome of motivated individuals who are reclaiming their lives and readiness to support each other's growth.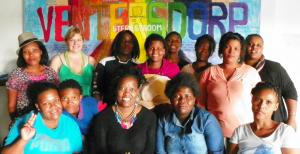 "When hearts meet, souls open up."  This was an expression that was evident as the days rolled out.  Elbie shared her observation "it's amazing that all of us who are gathered here, have issues with our fathers and maybe that's why we again struggle with issues of men today." 
For some participants the workshop has been a life changing experience. Friendships were fostered and it was clear that more time was needed to further the conversation. There was a request for a workshop in on 'Anger Management'. We will offer it as part of our follow up program.
To find more about the Creators of Peace in South Africa do contact Portia Mosia