Creators of Peace in South Africa innovates new partnerships for 'Caring for the Carers

A new collaboration has merged between the Non Governmental Organisation (NGO), PUSH, which stands for 'Push Until Something Happens' and the Creators of Peace (CoP) team in South Africa. For three weeks in May, the CoP team facilitated the Creators of Peace Circle for volunteers of PUSH with an expectation that it would help nourish and revive the spirit of service and care in the volunteers and further be reflected in the communities they work in.
Since 2001, PUSH based in Eldorado Park/ Kliptown, Soweto, to serve and promote the knowledge of dealing with HIV/AIDS and model a future that's HIV/AIDS free. This is done through programmes such as feeding schemes, after-school and holiday programmes, mobile testing clinics and counselling and life skill workshops for the communities. The founder, Mrs Launa Fisher currently has over 40 volunteers from the surrounding area doing these great tasks.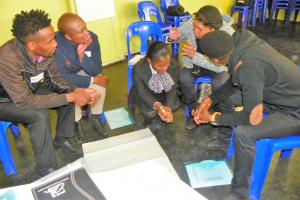 Over three days in each of the three-week period, 39 volunteers participated. The diversity of our 'rainbow nation' and from neighbouring countries was apparent as the volunteers represented several faith traditions, were both men and women and covered a wide variety of ages. Although we all spoke in English, languages present were also Afrikaans, Sesotho, isiZulu, Setswana, isiXhosa, isiNdebele and Tsonga.
These community servers, from the onset, shared that the Creators of Peace Circle was a great awareness tool of how easy a person can neglect the self due to caring so much for others. One participant said, "I was allowed to be open about things and issues I have bottled up for a very long time. It has helped me to listen to my inner me and I have found my inner peace." Another shared, "The Peace Cirle impacted me so much, that from now on I will give genuine love to my family members and respond with good attitude to both my work and personal relationships. I have learnt ways of dealing with my grudges and have let go of my worries so as to be a better person. These solutions will help me always."
As Creators of Peace provides a safe space for sharing and supporting each other, this was a gift to the participants to have the breathing space, reconnection to self and have someone to listen to them as opposed to being 'pillars' to the less fortunate. This time helped them connect as a team, live into one another's pain and together find how they can be of support to each other.  One participant expressed, "Having to speak about my unforgiveness, I see my faults too and this allowed me to start to forgive no matter how hard it is for me." Yet another said, "I have made peace with my past and realised that I had lots of anger and hatred for my father and it was not doing me any good.  So I had let go and am moving on."  "I was made to visit my inner monsters, to see where I have a challenge. I saw how I had buried myself yet still alive.  But now I know I have to believe, forgive and love myself. The sky is the limit as long as I still breathe. I have to forgive the past and move on with lessons learned," shared yet another.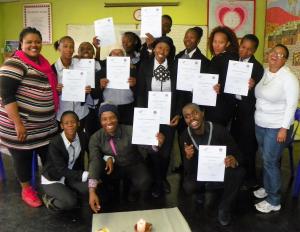 Lucel Synayers , one of the facilitators noted that "our work is fundamental to the team and it has helped the work Mrs Fisher has started during their morning devotion and character building sessions.  They (this group) have already taken steps towards their healing and emancipation journey.  We just gave tools to sustain and capacitate the person and relationships they have."
Following such a life changing experience, a one-day follow-up workshop will be organised for all those who have been through a Peace Circle. The follow-up topic will be self confidence and anger management.
As the Creators of Peace team we wish to thank PUSH for collaborating with us in building a new era of service and care to our people and country's needs.  We also thank Initiatives of Change South Africa and Edmee Botteron for financial assistance. 
by Cleopadia Mohlaodi, Lucel Synayers and 
Portia Mosia