Giraffe Heroes Awards 2014!
On 17 October, two days before the official Kenya 'Mashujaa Day' (Heroes Day), we honoured, celebrated and appreciated 23 ordinary Kenyans and one non-Kenyan, from diverse backgrounds, who are 'sticking their necks out' for the common good and serving their communities in selfless ways. The awards ceremony, which was also the official launch of the programme, took place at Water Buck Hotel, Nakuru. Present at the event was John Graham, a former USA diplomat and the Director for Giraffe Heroes International as well as representatives from the County Government of Nakuru, Corporate, Academic and Religious institutions among other dignitaries.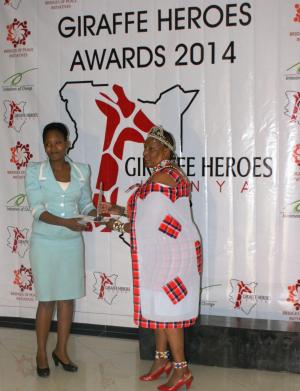 The people awarded include;
JANET KIMOI KIPKALIS- KABARNET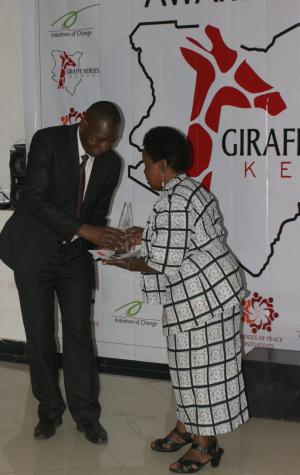 MEITAMEI OLOL DAPASH - NAROK
JOSEPH KIMAIYO TOWETT - NAKURU
PATRICK ALFRED WALUCHIO - NAIROBI
JOHN GRAHAM & ANN MEDLOCK - USA
Click here to see photos of the Giraffe Heroes Awards 2014 Gala.
The programme is an off-shoot of Giraffe Heroes Project, USA and has been replicated in other countries including India, Nepal and Singapore. Zimbabwe and Nigeria are the only other African countries undertaking this initiative. Kenya is the first country in East Africa and the third in Africa to host the awards.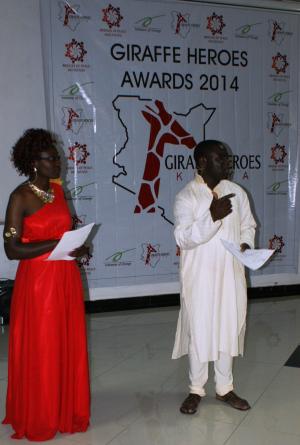 Giraffe Heroes Kenya is being hosted by Bridges of Peace Initiatives (BPI) and Initiatives of Change Kenya (IofC), non-governmental organizations based in Nakuru and Nairobi, Kenya. Both BPI and IofC seeks to build a Kenya where individuals can actively take part in fostering cultures of peace to build just, secure and sustainable communities by empowering communities through capacity building, advocacy, research and documentation on issues such as peace building, inter- ethnic/religious dialogues, leadership and good governance.
Through this award, at least 24 Giraffe Heroes shall be awarded and celebrated every year in a bid to inspire more people to become active citizens in responding to challenges facing the society. 
In the next months, we shall focus on telling the stories of the 'Giraffes' through social media and other traditional media outlets.