The gracefully Broken - Creators of Peace, Ennerdale, South Africa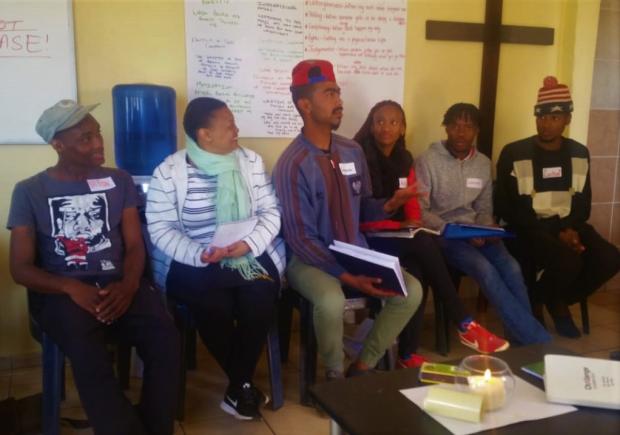 The Hidden With Christ Restoration Centre in Ennerdale, south west Johannesburg is a drug rehabilitation centre with a vision to rebuild a person's brokenness and give hope again of a life God intended. The Centre was founded by Mr and Mrs Morvine Beste, who daily care and pass on many life values, including a remaining process where the group calls themselves the 'gracefully broken'. This concept is based on the situation they are in - a journey to overcome. Creators of Peace's three facilitators were invited to present a Peace Circle for 14 men and women. This took place from the 29th -31st July 2019.
This request came from a need to empower these participants with tools to enable them to integrate back into family and Ennerdale community life after their rehabilitation period, as well as an opportunity to find deeper healing from the causes of pain that lead to substance abuse and addiction. The group was vibrant, excited, curious, artistic and active throughout the process – expectant of understanding what peace is, how to maintain it and learning how to restore their relationships with their family members. Hope was present in the group.
The discussions and activities of role play, writing and art helped. The discussion module, 'What builds and destroys Peace' stood out for the group. Through it they encountered disagreements and did not know how to resolve them. Now they found a better way to resolve conflicts in the future that will allow them to spend their time living together peacefully and respectfully. Gershwin and Dillion, shared how they restored their friendship with the skill that was given to them during the Peace Circle.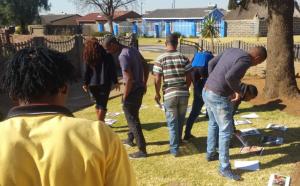 As the programme approached the third day, the group expressed that they were aware that there is a lot of work to be done on a personal level in order to help them to the positive change which they desire. They decided to forgive even though its hard and also face up to the responsibility that lay ahead, like finding a job, being better parents, communicating better as well as reaching out and mentoring those prone to addiction or to raise awareness why there needs to be #nodrugsinmylife.(explain what this is, please)
"It's a pleasure to see how the simple practice of a safe space for sharing can help a person reshape themselves. I am grateful I was taught the skills of sharing and reflection, and then to live a life empowering lives as I share my life learnings," writes Cleo.
On the 21 August the Creators of Peace team returned to Hidden With Christ Restoration Centre in Ennerdale, for a follow up to the Peace Circle held there earlier in the month. This is a time for checking in and continuing to care for the participants after their initial participation in the Peace Circle.
The follow up 
Asked to reflect on the last time we met at the Peace Circle and write a poem or a song about the best memory; what have I achieved; what do I struggle with in steps taken since the Peace Circle, Brandon wrote a poem entitled REBIRTH.
What good news, I am a born again
Some say I am mad and half way insane
But people can say and do as they like
I hope that someday they'd get the insight
For goodwill and long life I will pray for them
To continue my legacy in a similar way
To help and care for that innocent bystander
And not to become a lonely highlander
You pretend and pretend I can see it in your eyes
Your soul will unfold and stop all these lies
Just to wake and finally find
Jesus will be waiting so sweet, so kind
For you will lose everything but yet you will not fear
Jesus will be waiting silently near
He's waiting, He's calling so please let him in
For your new life's journey will soon begin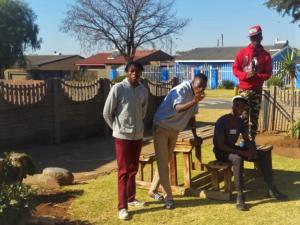 During the follow-up we asked, 'how are you dealing with the change?' Some answers were, "It's hard to be the change when everyone still expects you not to change;" "I love my family, however I am at a point where I am asking myself if my family really loves me?"; "I have so much unresolved anger that's putting my relationship in danger"; "I am still numb inside, but I will continue to push through"; "I have started to communicate the right way and I see so much difference. That is why I wish to mentor and equip others to gain the tools I received during the Peace Circle."
New steps are to continue self-forgiving, working on impatience and anger, stop procrastination and have self-control.
Thank you to Initiatives of Change and Hidden with Christ Restoration Centre for making this transformative time possible.