Creators of Peace bringing on board Cape Town Facilitators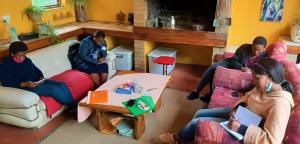 Two collaborating organisations, Initiatives of Change and Gravitree, delivered a training of facilitators and the first Creators of Peace (CoP) Circle in Cape Town from 30th November to 11th December. The purpose of this initiative is to grow and strengthen the Creators of Peace programme in South Africa – the aim being to help build foundations for a healed nation.
Trainers, Cleo Mohlaodi and Mantwa Mabe conducted a seven-day CoP facilitation training for four passionate community workers with an academic background in Social and Health work. Three of the trainees are from Gugulethu, and one from Khayelitsha, communities in Cape Town.
The communities from which the trainee's come are originally from the Xhosa villages in the Eastern Cape province.  They came closer to Cape Town for work and better opportunities.  However, they are threatened daily by gender based violence, gangsterism, drug abuse, resulting in teenage pregnancies and inter-generational and other trauma, and currently Covid-19. 
The programme was divided into two phases:  the training phase for seven days and practical training for three days. The trainee facilitators went through a Peace Circle (PC) themselves, then received facilitation skills such as planning, resource mobilisation, mentoring and accompaniment, identifying their own stories, presentation skills, reflection/mindful practices and project delivery.
Then the practical training phase was the actual delivery of a PC to nine women, aged between 17 – 48 yrs, from Gugulethu and its neighbouring suburbs.
One trainee, Nosie, asked 'with only four of us, how can we have so much to talk about that we spend such long and intense days?'. After experiencing the Creators of Peace Circle and watching 'The Man who builds Peace' film about the life of Frank Buchman, initiator of MRA/IofC, a new depth of understanding of what IofC's principles are, began to dawn.
The trainee's expectations of the PC were, 'boosting self-esteem, confidence, gain self-love and self-awareness, sharpen tools to present and facilitate workshops. "I was startled by the fact that we have amazing individuals who have studied community work but have little knowledge about self," said Cleo.  Realising this, as trainers and trainees we talked more about our fears:  fears of the unknown, fear of judgements, fear of showing self-shame and fear of being vulnerable to self and how to work at overcoming them. "The more we as trainers shared our stories, the more they opened up and started to see growth in themselves," commented Cleo.
Nompendulo, a trainee facilitator, shared that she was really impressed at how the trainers and the programme was enabling her to share her private self  - secrets that she had kept internally safe for over 20 years.  Even professional psychologists, when she was clinically diagnosed with depression, could not manage to heal that trauma. She continued, "The psychologist told me what was in the books I read.  But with you and the CoP Circle it was different and special. I applaud and thank you so much for helping me to open up."
After 58 hours of intense CoP facilitation training and experience, the trainee facilitators  conducted their first PC in Gugulethu.  We took time beforehand for practical preparation, checking the venue, delegated logistics, had a few team building activities and also drove through the community of Gugulethu to understand its history.  Nosabata said, "I love the way the planning and team work makes the task at hand easy."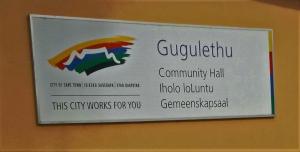 There were nine women participants aged 17 to 46 years.  They were keen to gain confidence, heal from the pain and develop communication skills. The participants did a Post Traumatic Stress Disorder (PSTD) self-assessment and found that five of the women were above the clinical threshold.  By the third day, for seven of the participants their score was halved on a repeat of the PSTD assessment.  That helped build a sense of relief, new hope, healing, and self-care.
On the second day, looking at the conflict resolution model of the 3I's (Issue, Impact and Invitation) the session 'What builds and destroys Peace" was the highlight.  One participant shared that she had practised the model with her husband during a conflict they had the previous night and the conversation was better this time around.  "As faciltator," Mantwa said, "seeing these outcomes helps me feel that I am making a difference where it matters most."
There was provision for practising inner listening and reflection on the question 'what directions do I need to take to be happy and confident again?'  The participants dared to be vulnerable.
The 'Forgiveness' topic was a challenge, bringing anger and sadness to the surface.  Nompendulo, shared her story in public for the first time and with a family member present. The care and support from the other participants was overwhelming.  After the session, participants said that they wish the programme was longer. Some comments from participants: "This programme is not boring. I like the fact that we were given a chance to share. We are so used to spaces where we sit and listen."  From another, "The workshop reminded me that I'm not the story, I am the story teller. My story doesn't define who I am." Eighty percent of the evaluations indicated keenness for CoP to be presented to family members as means to preserve unity and live in harmony.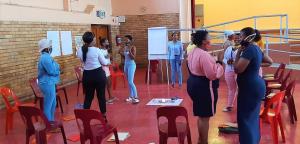 With the trainees there was time for debrief, review and looking ahead. The trainees marvelled at the outcome of their practicals and felt the need for more workshops so that Gugulethu can be a safe, healed and positive place to live and grow future leaders.
There will be a follow-up meeting on the requested theme, 'anger'  on the 16th January 2021.  There will be a WhatsApp support group  during these summer holidays, because the participants identified that most of their challenges are family related. Two participants  asked for assistance with referral for professional help on issues of trauma and anger.
Further outcomes are planned, namely:
Inclusion of other stakeholders, e.g. school, church and non governmental organisations;
A day in January to deliver CoP presentations in Gugulethu;
Aim to reach three more communities, namely Khayelitsha, Paarl and Wellington, and to deliver workshops for 200 individuals;
A mid-year 2021 training for four more facilitators;
Do fund-raising initiatives;
Have activities for young and old in the community to engage with each other;
Have monthly online check in and soft skill training as a team.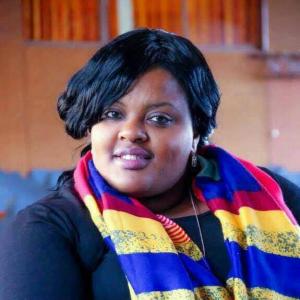 "I was hugely impacted by how gangsterism is changing and impacting culture, personalities, family, business structures, education systems and ultimately impacting the narrative of South Africa", said Cleo. "Upon hearing that in some communities businesses have to pay 50% of their income as protection fee to the very same people who make it unsafe, I felt scared and then quickly realised that I am not in Cape town to threaten the gangsterism culture. I am in Cape Town to help those who want to help change their own lives.  My confidence came back, and I am grateful for this opportunity to see CoP germinate and start the dialogue and process of healing the deep wounds that history, culture and religion have left in many of us."
We wish to thank the Sylvia Zuber Fund, Gravitree, Edmée Botteron and Initiatives of Change-South Africa for the financial and moral support for this programme.  This has launched CoP in Cape Town.
Report by Cleo Mohlaodi & Mantwa Mabe